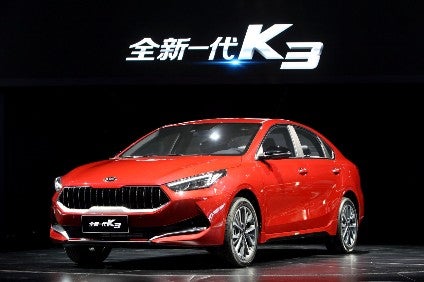 Kia Motors' Chinese venture, Dongfeng Yueda Kia Motors (DYK), revealed the new K3 and K3 Plug-in Hybrid at Auto Shanghai 2019.
This latest version of the mid-sized sedan was designed and engineered specifically for China.
It has a unique exterior design, spacious, high-quality cabin and is powered by a range of highly-efficient petrol and plug-in electrified powertrains. The car is offered with a series of China-specific technologies and functionality, Kia said.
"The K3 has been designed and engineered with Chinese drivers in mind, and is built locally, with a range of features and characteristics aimed at exceeding the high expectations of young Chinese drivers," said Jay Yoon, head of brand and marketing for DYK.
Sales start in the second quarter of the year.
The car is offered with 1.5- and 1.4-litre turbocharged petrol direct injection (T-GDi) engines. Kia claims best-in-class fuel efficiency for the 1.5.
The plug-in hybrid model has an infotainment system which enables users to search for nearby recharging locations.
Kia also showed off its Real-time Emotion Adaptive Driving (R.E.A.D.) system which "looks to a future when autonomous driving is the norm and priority is placed on improving the human mobility experience".
The claimed world-first technology optimises and personalises the cabin, analysing a driver's emotional state in real-time through artificial intelligence-based bio-signal recognition technology. It tailors the interior environment based on its assessment, altering conditions within the cabin "that are related to human senses, creating a more enjoyable mobility experience".
AI deep-learning technology enables the system to establish a baseline in user behaviour and then identify patterns and trends to customise the cabin accordingly.