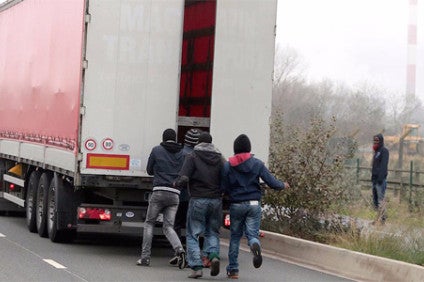 Britain's Road Haulage Association (RHA) is urging the French government to send its army to disperse migrants massing at Calais, while branding the UK's decision to build a new wall at the Port, "a waste of money."
Hauliers and police are engaged nightly in a battle of wills to stop thousands of migrants desperate to cross the English Channel using lorries on ferries or Le Shuttle services, with levels of violence now escalating to branches fashioned into spears being hurled at windscreens, as well as burning barricades.
Paris has committed more than 1,100 police to attempt to diffuse the tense situation at Calais, although the British Freight Transport Association (FTA) has slammed the "collapse of public order" in the region.
However, such vast numbers of police, estimated by some to be around 1% of the entire French force, appear not to be able to control the spiralling situation, with the RHA urging a military solution be found instead.
"The French army needs to come in," an RHA spokesman told just-auto. "They brought in more gendarmes – they can only deal with situation to a certain extent. The French army has the facilities to deal with a big number of people [who] need to be dispersed.
"Building a wall is effectively a waste of money. It could be better spent helping the French subsidise their military or reinforce the police operation."
Migrant numbers in the camp are thought to have reached up to 10,000, while the French Interior Ministry estimates half of those to be homeless.
Such pressure may be leading to an increasingly desperate drive to cross the Channel, while fears of any immigration clampdown following the UK's decision to leave the European Union may also be fuelling a push to stow away.
"We are not in favour of the wall," added the RHA spokesman. "It is not a good use of taxpayers' money. "It will not solve the problem – the migrants will move elsewhere.
"Dismantling the camp is what we are looking for. Obviously this is a humanitarian issue. The British and French governments need to work together rather than throwing ideas about.
"That is what we have been pushing for – a collaboration to solve the problem once and for all."
RHA chief executive, Richard Burnett met French Interior Minister, Bernard Cazeneuve last Friday (2 September), where assurances were given by Paris the camp would be dismantled by the end of next month.
Britain plans to build – and pay for – the 1km wall on the Rocade port approach road following major damage to the existing fence which the FTA says is costing GBP80,000 (US$107,000) per week to repair.