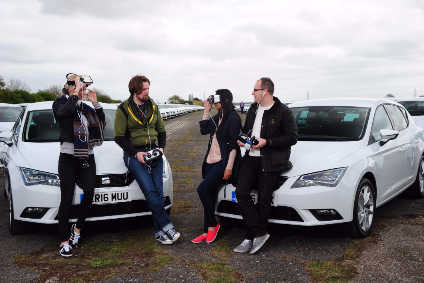 VW's SEAT brand says it has conducted a "virtual handover" of over 100 new SEAT Leons to a large corporate customer. SEAT also said the operation gives a strong indication of how technology could be used to enhance the delivery experience of cars to the next generation of connected drivers.
Using a personalised video deployed via a VR Gear headset and a Samsung S7 smartphone, 129 new Leon hatchbacks were presented to a group of drivers who will use the cars for field work with retail marketing agency Blue Square.
It said the virtual handover covered all of the car's features, from operating the major controls to the in-car technology including the latest Full Link infotainment system, ensuring a comprehensive handover through a visual medium that can be re-watched if necessary.
It also said using the virtual technology substantially reduced the time required to deliver the vehicles.
Richard Harrison, Managing Director at SEAT UK said: "SEAT took the challenge of capturing the imaginations of a group of connected drivers, and the virtual reality concept proved a real success.
"In keeping with SEAT's 'Technology to Enjoy' ethos, smartphone technology can be embraced to deliver cars to our customers in even more efficient and exciting ways by our dealers, whilst video content offers huge scope for personalisation, including capturing that all-important moment of collecting your new car. I'm sure this is just a glimpse of where we could be heading in the not too distant future."