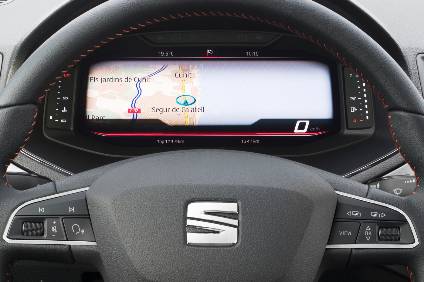 VW-Group owned brand SEAT is bringing its customisable 'Digital Cockpit to the Arona and Ibiza models.
The digital cockpit has been in the Leon and Ateca models since early this year.
SEAT says the pixel-dense digital instrumentation provides greater functionality, allowing drivers to view everything from classic information found on analogue dials, such as speedometer and tachometer, to full-colour maps and navigation.
"We are fully committed to offering our customers the best quality design, bringing in the precision of a classic gauge into the digital world, where each pixel is designed with the same accuracy," said Alejandro Mesonero-Romanos, Director of Design at SEAT. "Taking advantage of this disruptive digital environment, our interior car design upgrades to the next level."
Controlling the information provided requires the driver to merely press the steering wheel-mounted 'View' control button to scroll through the three different available main displays, minimising driver distraction and maximising the clarity of information provided depending on the driver's needs, SEAT claims. It also says that transitions between the available information on the 1280 x 480 pixel TFT display are smooth thanks to its 75 Hz refresh rate, which makes information easier to read.
SEAT's Digital Cockpit provides three main information displays: Classic, Digital and Dynamic View.
Classic information provides the well-known analogues features such as a speedometer and tachometer, but between these two digital dials extra data can be displayed, including navigation information, music, phone, driving data and assistance information (lane assist, blind spot detection and front assist, ACC) and the vehicle's status. While additional information can also be displayed in the very centre of the dials.
In navigation mode the map can be zoomed in or out.