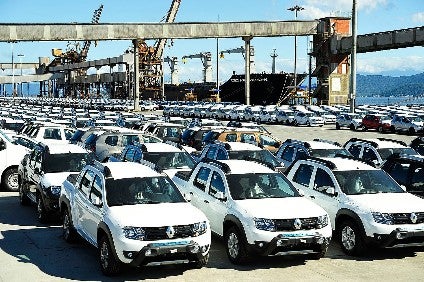 Despite car dealers still being locked down in many Brazilian cities, last month ended with registrations of light and heavy vehicles up 15.7% on March 2020 when the coronavirus pandemic hit the country. Dealers sold 189,389 units.
All segments continue to face a parts supply shortage, notably of semiconductor chips. Production has been halted at several factories, especially in March. There was, however, a big logistics effort to complete unfinished units left in storage yards lacking some parts.
Stoppages vary widely. Stellantis' Fiat and Jeep plants, for example, were affected less than at GM which lost market leadership to the Italian brand.
GM is halting production for 60 days (April through May) at its main plant in Gravatai in Rio Grande do Sul, the country's southernmost state.
Sales were also hit due to very low inventories: 101,000 units countrywide.
Last month, that covered a mere three days of sales at the automakers' storage yards and 13 days on dealers forecourts.
Halved stock has seen off many would-be buyers facing long wait lists who went instead for used cars.
First quarter 2021 registrations ended up just 5.4% down at 527,900.
Of course, since the comparative base with Q2 2020 is low, sales numbers are likely to be very positive for the next few months.
Just to help, the Sao Paulo state, the country's main market, unexpectedly hiked tax on new and used vehicles.
The national association of auto makers (Anfavea) tallied first quarter production at 597,800 units, 197,000 in March alone, the best month of the year so far, and up 2% year on year thanks to strong demand for trucks and light commercials.
Brazil agribusiness is growing exports so the outlook for truck buying cargo haulers is rosy.
First quarter vehicle exports rose 7.6% to 95,800 units.
The Brazilian real's devaluation against the US dollar, euro and other currencies has helped to make this country's products more competitive so more export growth is expected this year.
Job stability was notable during the first quarter with automakers employing 104,700 people. The closing of two Ford manufacturing plants in the country last January is yet to have a major effect due to generous settlements negotiated with the unions.
Hiring by other automakers, albeit at modest pace, is expected to help make up some of the 7% market share Ford took in Brazil last year.
From now on, as an importer only, the blue oval slice is expected to be 1%-2%.