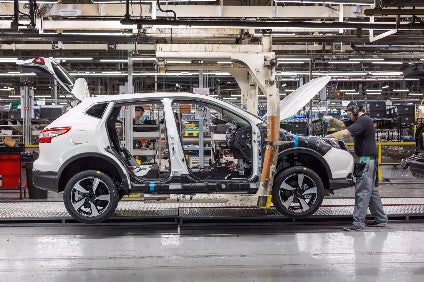 KPMG's head of automotive in the UK, John Leech, reckons lofty sales goals will now not be reached but production this year will grow thanks to a pound weakened by last week's historic 'Brexit' vote to leave the EU. Meanwhile, a US analyst, in a rare optimistic article over the weekend, suggested possible tariff-free access to markets outside the EU could give British automakers a boost.
Leech said: "In recent months we have seen some industry commentators believe that UK new car sales could top 3m in the coming years. The vote to leave the EU means that this has become highly unlikely and I now forecast that new car sales will fall to 2.5m cars in 2017. I still anticipate that UK production will grow by double digits in 2016 to 1.7m cars driven principally by EU exports buoyed by the weak pound."
The UK has two years to invoke the so-called Article 50 to leave the EU and there have been mixed calls over the weekend – as the ruling Conservative Party readied for a change of prime minister after David Cameron resigned last week and the opposition Labour Party imploded with mass 'shadow cabinet' sackings and resignations – for that process to be either speeded up or taken at a measured pace.
Leech added: "As recent surveys showed, the automotive industry is anticipated to be one of the sectors most impacted by the vote to leave the EU. While it will take years for the UK's future relationship with the EU and other countries to become clear, there are steps that the [industry] should take now. The fall in sterling and commodity prices will prompt vehicle production plans, sales incentives, financing arrangements and purchasing plans to be adjusted. Information about employees, procurement and distribution need to be gathered and reassessed such that quick action can be taken once the anticipated changes to VAT, customs and migration rules are enacted."
Writing for investor website seekingalpha.com, former supply-side analyst and current auto industry writer/analyst Anton Wahlman argues, depending on the deals negotiated, Brexit could end the EU-imposed tariffs on US imports into the UK and enable UK automakers such as Nissan, Jaguar Land Rover and Aston Martin to export tariff-free to the US.
He argues that Audi, Nissan, Mercedes, KIA, Hyundai/Kia, FCA and others have "set up shop in Mexico" so that they can sell tariff-free to the US and Europe alike and that the UK, free of the EU and tariffs, could compete with the South American country.
In a Sunday editorial, Britain's Daily Telegraph, a supporter of the Leave campaign said defeatist talk could cost the country dear.
"There is a tangible sense that some of those who were on the losing side in the EU referendum are almost willing a calamity in order to damn those who voted for Brexit. The outcome exposed a deep fissure running through British society that now risks being widened by the manner of the response," it said. Anyone who hoped this exercise in popular democracy would settle the EU issue without rancour has been disappointed."
It said outgoing prime minister David Cameron and chancellor (finance minister) George Osborne "must now publicly disavow Project Fear and speak up for Britain's economy. Once the dust has settled, there is a great potential Brexit dividend that needs to be grasped. Of course, it won't be easy to unravel a 43-year relationship with Europe; but there will be opportunities, not just for the UK but for Europe as well if its leaders draw the right conclusions from what has happened.
"There is no earthly reason why a country severing a political relationship that was already pretty half-hearted should not flourish unless we talk ourselves into a crisis or one is foisted upon us.
"Indeed, if wiser heads prevail then the future relationship between the EU and the UK can develop in a mutually beneficial way. That needs to be the aim now, not more recrimination and unnecessary alarmism."
The paper noted that the referendum last week was only to Leave or Remain in the EU, and not how any exit would take place. A variety of options are already being discussed including some that would retain free movement of labour (a key automaker wish) though it has become clear 'uncontrolled immigration' was a key factor in many pro-Brexit votes.
"The constitutional implications of last Thursday's political earthquake, therefore, remain unclear and may require a general election to address. But, in the meantime, there must be an end to defeatism. As Franklin D Roosevelt said, the only thing we have to fear is fear itself," the Daily Telegraph concluded.