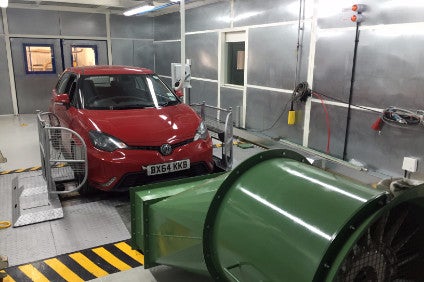 SAIC-owned MG Motor UK has spent GBP1.2m to install a fifth engine test facility and to further enhance the vehicle rolling road on-site at its headquarters in Longbridge, England.
The engine test facility "has significant improvements on the existing test resource and brings with it a major step change for [our] test and development capability", the automaker said.
Typically, vehicle emission testing on a rolling road has been outsourced but now engineers can carry out the required tests in the correct temperature controlled environment with full emission measurement capability. They also benefit from having the technical centre on-site for continuous product development.
Being able to carry out vehicle emissions and engine development on-site allows engineers to ensure engines are at their optimum for emissions, performance and fuel economy. The engineers can run test engines through a complete transient drive cycle with the ability to control temperature and humidity of the intake air and also the temperature of the coolant, oil and fuel.
James Scott, MG's powertrain test senior manager, said: "This facility increases the global test and development capability which allows even more collaborative powertrain testing and development with our colleagues in China."
MG recently announced an expansion of its design team at Longbridge, following the UK launch of the GS small SUV in June.