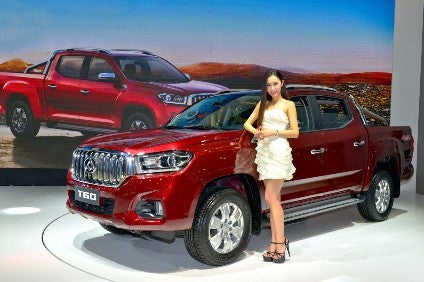 SAIC commercial vehicle brand LDV is launching its new pickup truck ('ute' or 'utility') in Australia, a key market for this type of vehicle.
The T60, on sale on 1 October, will be followed by the D90 SUV on 15 November, expanding LDV Australia's model line from just vans.
"LDV has deliberately chosen Sydney as the venue [for the launch event] to provide global visibility for the D90 and T60," the automaker said.
The T60 made its debut at last year's Guangzhou motor show in China and is a completely new model available with single or double cab, two or four-wheel drive, manual or automatic transmission and two trim and equipment levels.
The D90 was officially launched at the Shanghai show earlier this year. Dynamic testing and calibration of chassis electronics was done in Australia.
LDV also plans to widen its Australian sales and service dealer coverage as it launches the new models.
"Since its launch in Australia, LDV has focused on its van and people mover [MPV/minivan] ranges with the V80 and G10 vehicles," said general manager Dinesh Chinnappa.
"Sales of this type of vehicle are primarily in metro areas, so that is where we have concentrated our dealers and our business. But the T60 and the D90 will have a much broader appeal across the whole country. The ute and SUV markets are much bigger than the van market and they are booming. In preparation for the arrival of the T60 and D90 we are opening new dealers in country areas as well as enlarging our urban representation. There is little doubt that from day one, the T60 will be LDV's best-selling model in Australia, with the D90 close behind it, and this will be matched by a much higher visibility for LDV across the country.
"These two new models will transform LDV's position in the market, awareness of the brand across the country and, of course, the number of vehicles we will sell," added Chinnappa.
The T60 line will be expanded soon after launch with a range of turbo diesel 4WD dual cab versions with manual and automatic transmissions, as well as manual 2WD and 4WD cab chassis. There will be two trim and equipment levels to ensure coverage of the market from working business vehicles to recreational and family transport.
"This model line-up covers the most significant part of the market and these versions will be joined by additional variants as required to meet changing market demands," said Chinnappa.
At 5.3m long and 1.9m wide, with 110kW, 2.8 litre diesel, the T60 is pitched in the middle of Australia's key ute market sector in terms of size and performance but LDV claims that it will continue the brand's market position of value for money pricing and above average equipment, trim and features.