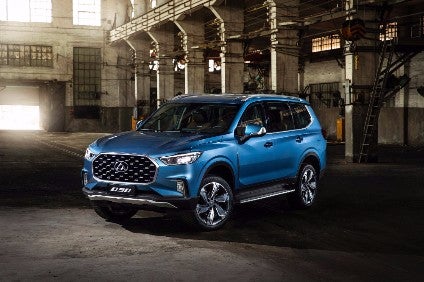 Chinese (SAIC Maxus) owned LDV, which can trace its heritage back through the long defunct UK owned LDV Group, Leyland DAF, Freight Rover and even various iterations of British Leyland and BMC back to the originally separate Austin and Morris (Nuffield Group) companies, has announced first details of its new D90, full size, seven seat SUV which will make its Australian debut on 15 November.
After some time with an independent importer, LDV is now handled 'down under' by the well seasoned Ateco Group which has years of experience launching and nurturing new brands before, as in several brand cases in its history, handing over to an 'official' factory owned distributor.
The new SUV was first seen in Australia last March while undergoing 'secret testing and calibration' for its automatic road sign recognition system prior to making its world debut at the Shanghai show. It's the first foray for the brand, known for its vans, into the global SUV market and its Australian launch will follow next week's Australian T60 pickup truck market launch into what is arguably one of the globe's most competitive and hard fought 'ute' (utility) battlegrounds, and the development home of such polished rival models as Ford's Thai built Ranger.
"LDV clearly know that while the SUV sector is now the dominant vehicle type around the world, it is also highly competitive, so [they] have drawn on the expertise, knowledge and technology of China's largest vehicle maker, its parent SAIC, to produce the D90," said LDV Automotive Australia general manager Dinesh Chinnappa.
"This means the D90 not only has everything expected of an SUV, it also has a range of features that might not be expected, such as automatic road sign recognition; luxury features that might be expected of higher market cars, such as a driver's seat that is heated, cooled and offers a massage. This means the new SUV provides an even stronger value for money equation, given its ability, features and technology."
"The SUV sector may be hard fought, but we believe that the D90 will be a strong and competitive addition to the sector and will be another top seller for LDV in Australia," added Chinnappa.
The D90 is just over 5m long and nearly 2m wide and generously proportioned with room for seven seats, or, with the two rear rows folded, 2.3 cubic metres of loadspace.
A turbocharged petrol engine produces 165kW and 350Nm of torque from 2500rpm with a 3500rpm peak, ideal, LDV says, for an SUV. Gearbox is a six speed, electronically controlled automatic. Drivetrains are two or four wheel drive, the latter with high and low range, terrain selection and electronic rear differential lock. Combined fuel consumption is 10.2l/100km (2WD) and 10.9l/100 km (4WD). Automatic stop/start is standard.
Driver aids include blind spot and lane departure warnings, plus traffic sign alerts.
Autonomous braking, front collision warning and electronic stability control are standard along with six airbags and an energy absorbing, rigid passenger safety cell.
Comfort and convenience features, according to model, include heated, cooled and massaging driver seat, adaptive cruise control, two display screens (including a Tesla rivalling 12 inch central touch screen for entertainment and communications; multifunction eight inch ahead of the driver), puddle lights, ambient interior lighting, foot activated electric tailgate and 220 volt/150W mains power socket.
"While there are three different trim and equipment levels, there is nothing that could be called a basic version," said Chinnappa. "Each is laden with equipment and features… ranging from excellent to exceptional, depending on equipment level."
Local pricing and more specifications will be announced in November.
A range of RHD LDV vans and cab/chassis is offered here in the UK by an independent importer.
The 'English' LDV, which had operated in the Washwood Heath area of Birmingham for about a century, and was latterly owned by Russia's GAZ Group, collapsed in early June 2009 with debts of GB75m and the loss of more than 800 jobs following a dramatic slump in the commercial vehicle sales sector.
Production had been suspended in December 2008. After a series of failed rescue attempts in 2009, the assets were sold by administrators PricewaterhouseCoopers to China Venture's firm Eco Concept in October 2009 and on to SAIC in 2010.