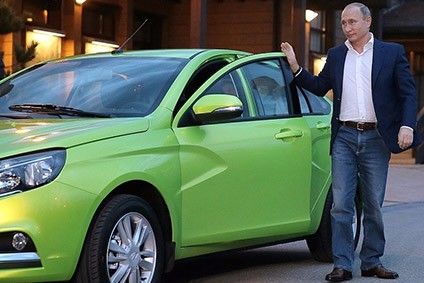 Russia's depressed car market took a turn for the worst in October as the rate of decline worsened following a period in which the rate of decline had appeared to stabilise.
The Moscow-based AEB said that sales of new passenger cars and LCVs in Russia decreased by 38.5% in October versus a year ago. Sales of 129,958 light vehicles in the month left the year-to-date tally at just over 1.32m units, 33.6% below the same period of last year.
Lada leads the market this year with sales of 224,054 units, 30% below last year. The Hyundai-Kia brands occupy second and third spot respectively, both brands gaining share this year. Kia sales in the first ten months totalled 134,160 units, some 13% lower than last year, while Hyundai was close behind at 133,530 units, 10% below last year. The two taken together are ahead of AvtoVAZ, but the group table issued by the AEB adds in Renault-Nissan Alliance partners to keep AvtoVAZ in top spot (curiously, Hyundai and Kia also not aggregated for group total).
Joerg Schreiber, Chairman of the AEB Automobile Manufacturers Committee noted in a statement that the market trend has worsened following apparent stabilisation in recent months. "Following a brief softening in August-September, the pace of market decline is picking up speed again in October," he said. "A key reason for this trend reversal is the now stabilised ruble exchange rate, the sudden slump of which in August had led to pull-ahead sales which are now missing. Also, the suspension of the government scrappage and trade-in program, originally introduced in September last year, is impacting retail demand in an unfavourable manner".
Russia's vehicle market has been hard hit by recession this year with little prospect for relief while global energy prices – especially oil – remain depressed.