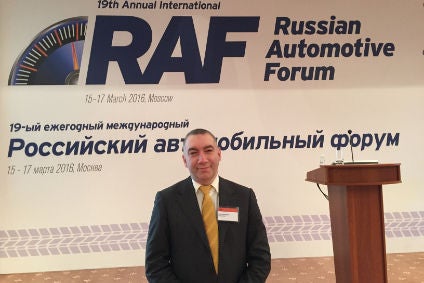 GAZ Group's component division says it is not enough just to drive down cost, but that product lines need to diversify in order to generate new business.
The supplier element of GAZ told just-auto at the recent Russian Automotive Forum (Raf) in Moscow the government should also consider supporting the component sector in the country, but that it was undertaking programmes of its own to counter the severe downturn in the industry.
"We believe we have component producers in Russia, but we need to give them a chance and help a little," said GAZ Group Autocomponents director, Kiril Epshteyn. "In my division we saved RUB1bn (US$14.6m). Is it enough just to cut costs? No.
"From the start, we have been a vertically integrated company. Our main customer is GAZ Group [and for example] we localised casting of the cylinder block for the Yaroslavl engine [plant].
"We should expand our product line. We are ready for the challenges of the market – what is the target? Very ambitious. I believe we can be even more ambitious."
Part of Autocomponent's diversification has seen it undertake work for national Russian rail operator and builder, RZD, while it is also involved with Ford Sollers.
"Eight years ago, my division was only integrated in GAZ Group and I had orders only [for] car assembly," said Epshteyn. "Now I will have orders not only [for] car assembly – [but also] for example train manufacturer, RZD.
"Future strategy for export – yes I will have [a] target [to] develop an export strategy – for example cast iron."
The Kremlin is making RUB50bn available this year to support the automotive sector in Russia, which last year saw the market plunge 36% with low oil prices and a falling rouble, coupled with high interest rates and inflation, denting consumer confidence.
However, speaking at the same conference, Russian Deputy Industry Minister, Alexander Morozov, hinted such levels of financial backing might have to be scaled back in the future.
"Naturally we will have to trim this strategy [at some point] – that is what the President said and by Q3 I hope we will have developed the new strategy [for the] macro-economic development of the industry," noted Morozov.