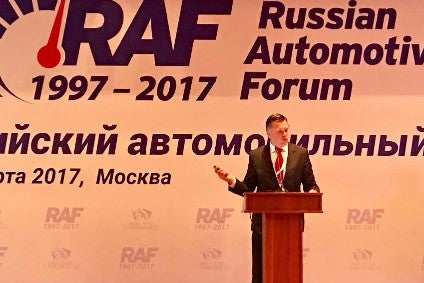 Bosal says the key ingredient when it comes to assessing Russian suppliers is the safety aspect of components, from which flow all other considerations when appointing a component manufacturer in the country .
The Dutch supplier of emissions control systems among many other competencies, has Russian plants in Novoorsk, 30km north of the Kazakhstan border, Nizhny Novgorod 250 miles east of Moscow and in Kaluga, 115 miles south west of the capital.
"For me it starts with safety," said Bosal purchasing director, Robert Snijder at the recent Russian Automotive Forum organised by Adam Smith Conferences in Moscow. "If you know his [Russian supplier] safety is OK, you know they will spend attention on quality. When quality is OK and you see his consistent production processes, you know he can supply on time.
"When you know he is managing that in a professional way, you know he can save cost. You can talk about technology road maps. We set up a supplier portal and via that portal we set up a self-assessment where we check performance of suppliers, have automatic registration and quality certificates.
"We will ask you [Russian supplier] to put all documentation on our site. That provides us to give the possibility as well to see how the financial indicators of the supplier are, because we don't want to work with suppliers who are systematically losing money."
As well as hard economic and performance decisions, the Bosal purchasing director also noted corporate social responsibility was high on the Dutch company's agenda, with for example the need to "stay away" from conflict minerals in the production process.
Should Russian suppliers progress successfully through that initial selection procedure, they will then receive a nomination letter from Bosal programme buyers, before receiving a 'scorecard' on a monthly basis.
"We have been developing for quite some time now [in] Russia…to find suppliers and we would like to see that in a positive way," added Snijder. "Continuous improvement and lean manufacturing – then you stand a chance as a supplier. Be selective on technologies – go deep.
"If you look at our agreements with suppliers there are three elements. Cost reduction, raw material content and currency fluctuation. We often have decisions about this at board level. What it comes back to for us [is] we are a Tier 1 back to back. If our customer requires us to bring 3% cost reduction, then we are going to ask the same from our supplier base."
The Bosal purchasing chief stressed there was still "great advantage" in being a first mover in Russia, particularly for components which do not exist yet.
"As a first mover, you are worried about the business, but if you are the only game in town many of the OEMs will look to you individually to source to you.
"A second supplier coming into the market is going to have to think which custom am I going to get. There are still great opportunities for suppliers to enter the marketplace especially if you have a technology we are not sourced with today."
See just-auto's 2017 Russia Automotive Forum hot topic for all our coverage of the Moscow conference.