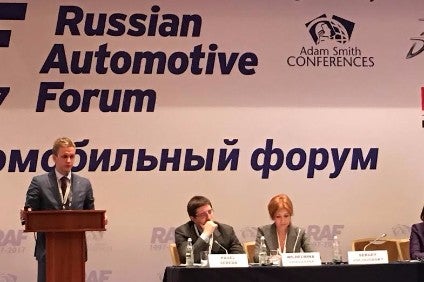 Russia's Export Centre (REC) says there will be an increase in the amount of financial support available to automakers using the Decree 905 mechanism for companies looking to conduct business abroad.
The Kremlin has enacted Decree 905 to encourage Russian manuacturers to search overseas for export opportunities, as the home market continues to present major sales challenges, with 16 automakers taking advantage of the US$345m available for export initiatives last year.
"The measures [financing] within the framework of [Decree] 905 – the measures implied [concerned] transportation support of costs for homolgation and certification," REC representative Automotive Industry Sector, Denis Badekin told just-auto on the sidelines of last week's Russian Automotive Forum organised by Adam Smith Conferences in Moscow.
"As for specific examples, 23,000 vehicles were supported out of this regulation – out of them around 5,000 were trucks and buses. 2017 – there will [be] the same support like 905. It will have a bigger number of course – we will see in April."
The Russian Export Centre was created as a body for financial and non-financial support, with areas also including training looking to address a "lack of basic knowledge," which sometimes occurs with respect to sending product overseas.
Last year, the REC supported automakers such as Peugeot, Hyundai, Kamaz, GAZ, Volgabus, Sollers and AvtoVAZ among others.
"One of the most creative support measures is of course the search for a partner," added Badekin. "It includes integrating several parts [of] the analytical division of the Export Centre [and] going to trade representatives in the host countries of destination."
At the same conference in Moscow, AvtoVAZ also urged Decree 905 be adopted for three years, with CEO, Nicolas Maure insisting the tool was "absolutely critical to succeed."