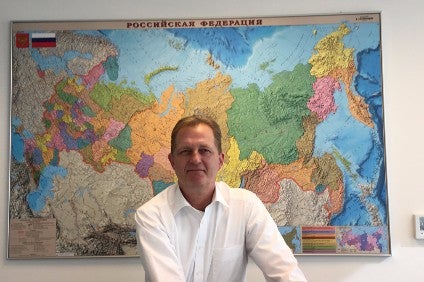 Russia's Association of European Businesses (AEB) Automotive Manufacturers Committee (AMC) is cautiously predicting a "soft return" to rosier times for the domestic market following four years of disastrously falling sales.
Sharply falling sales graphs have to a wide extent mirrored the fortunes of the Russian economy as the Kremlin grappled with a perfect storm of deep drops in the oil price, coupled with the punitive effect of international economic sanctions and barriers to credit, but there are small signs a thaw is finally starting to set in.
"After four years of consecutive decline where the market lost 50% volume, 2017 could be the year of a soft return, AEB AMC chairman, Joerg Schreiber, told just-auto in the Moscow offices of Mazda where he is also president and managing director of the automaker's Russian operations.
"The market should stop shrinking and then it is a matter of a variety of factors whether it breaks even. Everybody is waiting for good news – it should largely come from the economy despite the not so positive external environment with sanctions and so on.
"[The] Russian economy is not doing too well, but cautious signs are pointing to a stabilisation and may be some small growth to be expected. In people's pockets there is still less money then there used to be two to three years ago, [but] if you believe the data supplied by the government, the erosion has stopped. There is historically low consumer price inflation, which we have never seen in Russia of 5%.
"There is a huge backlog in demand [which] has now extended to five to six years. Even considering these five to six years back, that was when the market was in the aftershock of 2009/2010."
The market in Russia is expected to dip to around 1.4m this year – a far cry from the heady days of just shy of 3m in 2012 – but there is a genuine feeling the bottom has been reached with Moscow stepping in to pull some hefty financial levers in a bid to boost demand or at least halt the precipitous slide.
"The government has been playing an important role in recognising the importance of the automotive sector, not only in its contribution to GDP, but also its halo effect to investors," added the AMC chief. "Decree 166 [mandating local content for overseas manufacturers] is nearing its termination in 2018.
"Knowing cars are extremely important in Russia, it is not so much a luxury, but these huge distances people have to cover…and the public transportation sector still needs to be improved, cars have an extremely important role in people's lives."
Government help has been made available to try and cushion some of the worst of Russia's high banking rates which, at their peak, hit 30% for a couple of years, stymieing consumer desire for big ticket purchases such as cars, although this has dropped to an, albeit still-high, 20%.
"Financing is becoming more important," noted Schreiber. "It was really gaining traction up to 2012 – 50%-60% of cars [were] backed by some kind of credit product which is low by western standards, [but] relatively high for Russian standards.
"The good news is the banks are through the worst – they have dealt wiht the bad part of the debt in their portfolio [and] more credit products are appearing. Not just leasing, which is relatively new to Russia due to legal reasons.
"People want to buy [but are] just limited by net incomes, uncertainty about the future. When it comes to purchases of big things like cars, people are still a little bit restrained, [despite the availability] of cash for clunkers programmes [and] guaranteed base rates for loan products."
Full-year sales of passenger cars and light and medium commercial vehicles in 2016, reached 1.42m units, 11% below the 2015 result of 1.6m.