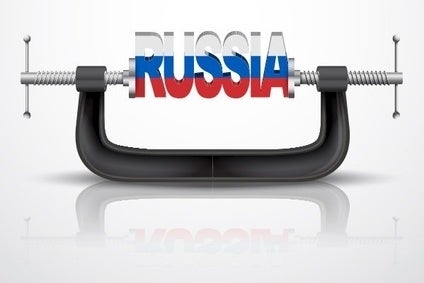 Russia's Association of European Businesses (AEB) is expressing its "serious concern" surrounding reports Moscow could target the automotive sector in a burst of retaliatory sanctions.
The speculation has seen some suggest the Russian government could look to partially or fully ban direct imports of Western cars in response to the worsening political situation surrounding Crimea's return to Moscow's sphere and increasing instability in Eastern Ukraine.
"The AEB expresses its serious concern over considerations of the Russian government to introduce protective measures in the aircraft, shipbuilding, automotive and other industries," said a statement from the association emailed to just-auto. "The AEB unites over 600 European and international companies working in Russia. Among them are global companies with businesses in sectors which would be directly affected by these measures. The introduction of such measures could lead to a serious decline in production volume and the number of workplaces, affecting not only the manufacturers themselves, but also suppliers and retailers working in these sectors.
"All this would harm not only the business of the companies concerned, but also fiscal revenues through the loss of tax and duty payments. We are sure that modernisation of Russian economy can be achieved only under effective international cooperation, which includes strong economic interaction between Russia and the EU."
Western European Union capitals and Washington, have issued a series of sanctions against Russia, reportedly aimed at President Vladimir Putin's inner circle, while Moscow has hit back with its own ban on agricultural produce, raw materials and food products from those countries targeting the Kremlin.
Specifically, this includes the US, the EU, Canada, Australia and Norway, whose products will be barred for 12 months, but the spectre of the auto industry also being highlighted, while currently only speculation, is gaining momentum in Russia at least through increasing rumour.
Any move by Russia would add to an already jittery domestic market, which saw July sales of new cars and light commercial vehicles plummet 23%, while the January-July period saw both sectors combined decline by 10%.
Ten of the best-selling passenger car models are produced in Russia, but the very fact auto sanctions are even being speculated about, will cause anxiety among manufacturers.
"The AEB hopes EU and Russian authorities will decide not to introduce further economic sanctions and find a diplomatic solution in the existing conflict," added the AEB statement.
"We re-state our position for the de-escalation of conflict and believe future economic sanctions can only lead to long-term social and economic consequences.
"We call again on the Heads of States and governments of the EU and Russia to refrain from creating conditions that prevent the normal exercise of business in the respective countries and companies."
Russia's Ministry of Industry and Trade was not immediately available for comment from Moscow.