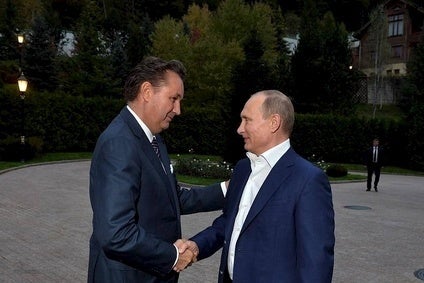 President Vladimir Putin is urging Russian suppliers and automakers to take advantage of the present rouble depreciation as the current wave of international sanctions shows no sign of easing.
Russia is continuing to endure the opprobrium of Western capitals for its annexation of Crimea and supposed involvement in Eastern Ukraine, with the rouble slipping markedly, coupled with a spike in inflation and interest rates, which have seen auto sales plummet for more than a year.
Putin made his comments as he test drove AvtoVAZ's new Lada Vesta shortly ahead of its roll-out across Russian dealerships next month and which was being presented at the Valdai Discussion Club in the Olympic city of Sochi on the Black Sea.
"He [President Putin] supports Russian automotive industry very much, so we showed him what the industry can do," an AvtoVAZ spokesman told just-auto from the automaker's home city of Togliatti. "The only really new vehicle for the past ten years is the Vesta.
"For the past years, the Russian government has taken very hard actions…in this situation of the falling market. For example, scrappage programme and trade-in programmes, support interest rates for credit."
AvtoVAZ is due to present its latest sales figures either at the end of this week or the beginning of next, but the Russian Head of State is urging domestic automakers and suppliers to take advantage of the significantly competitive situation in which they currently find themselves, despite the reluctance of costumers to part with roubles in showrooms.
"It is a matter of the difference in exchange rates – for the national currency and for foreign currencies compared to the rouble," said President Putin after driving the Vesta and in comments confirmed to just-auto by his office in Moscow.
"These are absolute competitive advantages our carmakers must certainly use, not just to conquer their own market, but to advance in the foreign markets as well.
"I was just talking to [AvtoVAZ CEO Bo] Mr Andersson and they are already planning sales in those regions of the world, in those nations, where people are familiar with Lada: Eastern Europe, some nations in the Middle East and Latin America. I think it will work and work well."
Putin noted the AvtoVAZ chief had told him the automaker's localisation rate was 70%, a figure he maintained was "a very good indicator," citing for example certain components arriving from the Magnitogorsk Iron and Steel Works, which can take advantage of domestic pricing and logistics.