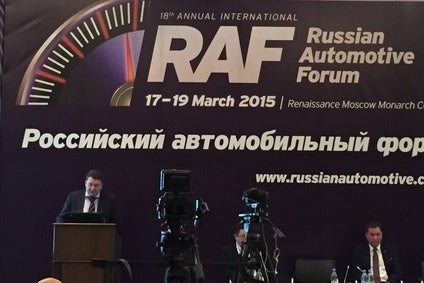 Russia's Transport Ministry says it is looking to use RUB15bn (US$249m) of automotive subsidies in six months this year as Moscow aims to boost vehicle sales by 200,000 in 2015.
The country is witnessing enormous sales falls – down 38% in February alone – and after a year of virtually consecutive months of heavily dropping numbers The Kremlin has clearly decided to take the bull by the horns – despite a budgetary squeeze caused by the halving of oil prices.
"In February we experienced a serious shock," Transport Department director, Alexander Morozov told this week's Russian Automotive Forum (RAF) in Moscow. "Production in two months was reduced by 22% – we were getting ready for this.
"But the reality turned out to be tougher than we expected it to be. Government stimulus could play an important role – such programmes will determine which way the market will be heading. We are ready to offer government support programmes.
"We have certain priorities – we will continue to renew the fleet of vehicles and in Q1 we have allocated RUB10bn and for the second quarter we will allocate RUB5bn. With the new price levels, we will see a recovery of fleet renewal.
"We will continue to stimulate demand for buses and municipal organisations and will focus on vehicles running on natural gas. We will allocate RUB3bn on this programme this year."
EY (Ernst & Young) CIS Automotive Group Head, Andrey Tomyshev told just-auto from Moscow the Russian government was considering spending a total of RUB20bn to support the automotive sector, through the extension of the current scrappage programme and will mull car loan interest rates as well as personal leasing subsidies.
"We asked the Prime Minister [Dmitry Medvedev] regarding the level of government financing," added Morozov. "We want to use up this money in the first six months of this year, because we realise this period will be particularly difficult for the automotive market.
"The government is currently preparing to make a decision regarding low interest lending programmes. The programme will be launched on 1 April and it is our target to reach almost 200,000 vehicles this year."