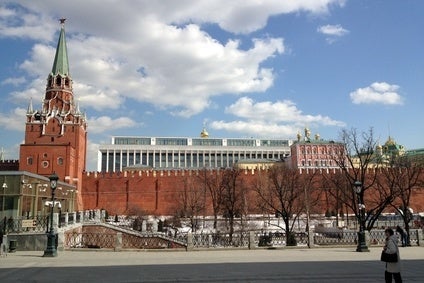 Russia's Ministry of Industry and Trade confirms it is mulling reintroducing a scrappage scheme in a bid to reverse the alarming plunge in auto sales.
The country last employed the scrappage or recycling scheme as it is known in Russia, in 2010 at the height of the global economic crisis, although was forced to back down concerning fees for overseas automakers using it.
However, with the current political storm clouds surrounding the crisis in Ukraine and the West's view of Russia annexing Crimea, auto sales have continued to plummet this year, with some analysts estimating a 25%-30% fall.
The situation has been exacerbated by rumours Moscow is mulling imposing sanctions against direct imports by Western automakers, while confirmation Russia is mulling the reintroduction of scrappage could be taken as a sign the Kremlin is also spooked by the significant sales drop.
"The question [recycling] is under discussion, a Russian Ministry of Trade and Industry spokesman told just-auto from Moscow.
"At this moment, question about this programme reinstate doesn't stand."
Rumours of the re-emergence of a scrappage scheme appear to have also dampened consumer enthusiasm for purchasing cars, with would-be buyers waiting until further details are announced.
"[The] biggest issue right now is to announce details about when, where [which] vehicles able to scrap – [which] vehicles able to buy -domestic only? – engine size – with scrappage," a reliable source in Moscow told just-auto.
"Word is on the street now and the consumer is smart – waiting to hear details – so having dampening effect until clarity emerges."
Scrappage proved hugely successful four years ago in Russia, generating a major uplift in sales volumes, but whether the Russian government would be prepared to stump up the US$1bn to US$2bn it cost the previous time, is a moot point.
Any re-introduction of scrappage could come as a rare piece of good news for Russia's beleaguered automakers – many of them producing domestically on behalf of overseas manufacturers.
The Association of European Businesses (AEB), representing 600 domestic and overseas companies in Russia, says July sales of new cars and light commercial vehicles dropped 22.9%, noting the overall trend is "worrisome," after months of consecutive falls.
"Unfortunately, the contraction of the automotive market continues, picking up speed in July," said AEB AMC (Automobile Manufacturers Committee) chairman, Joerg Schreiber.
"The overall trend is worrisome and unlikely to improve fundamentally any time soon."