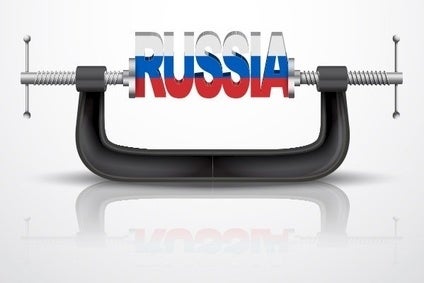 Turmoil currently engulfing relations between Russia and the West is starting to feed through to domestic consumer confidence with some forecasts estimating the market could plummet by as much as 30% this year.
The West – in the guise of the European Union and the US – has imposed a new round of sanctions on Russia following its annexation of Crimea and the significant political instability in Ukraine after the Malaysian Airlines crash in the east of the country last month.
Travel bans and asset freezes have targeted individuals – reportedly such as Russian Railways CEO Vladimir Yakunin and a close confidant of President Putin – while the EU has also extended its disapproval to include so-called Tier 3 sanctions.
Specifically, the EU says it will limit access to EU capital markets for Russian State-owned financial institutions, impose an embargo on trade in arms, establish an export ban for dual use goods for military end users and curtail Russian access to sensitive technologies particularly in the field of the oil sector.
"It [sanctions] will certainly [have] an impact on the consumer market for sure," Moscow-based Ernst & Young CIS automotive sector leader, William King, told just-auto during his visit to Cologne.
"The government is spending time defending the rouble, therefore raising interest rates to stop capital flight.
"The import bank rate is now eight points – compare that to the US or Europe it is six points above – that is having a dampening effect. I am anxious to see what the July [auto] sales [are] – I would not be surprised to see them 25%-30% down.
"It is going to be pretty draconian in terms of contraction. I would not be surprised to see 20%-30% this year."
That in turn has apparently led to an impact on some dealers securing finance, while a drop in consumer confidence affecting sales, is leading to automakers slowing production and taking extended holidays to address the lack of demand.
"We have not seen any major furloughing other than that which has happened at AvtoVAZ , said King. "They [automakers] are very nervous…but in the mid-term certainly it will still be a good market.
"Maybe by the end of this decade, they will approach where they were in 2012 – nearly 3m – [units] but it will take some time. I think the market will be down for the next two years."
The Association of European Businesses (AEB) said it "deeply regrets" the new sanctions imposed by the EU on Russia.
The AEB represents more than 600 companies and many AEB members undertake business in both Russia and Ukraine.
"Considering the volume of the trade between Russia and the EU and Russia and the Ukraine, the AEB expects these new sanctions will not only hurt the Russian economy, but also will restrict growth in both the EU and the Ukraine," said a statement from the organisation.
"The AEB strongly re-states its position in favour of the de-escalation of the conflict and calls on the Heads of States and governments of the EU, Russia and the Ukraine to organise as quickly as possible an International Conference, with all the parties involved, to put a stop to the de facto civil war in Ukraine and find a common, mutually acceptable, solution."