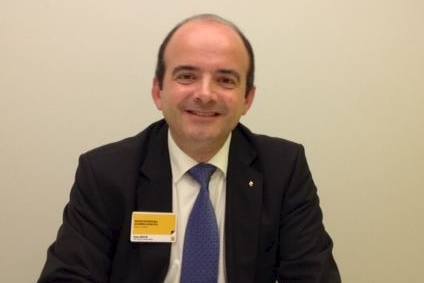 Renault's Russian director, Bruno Ancelin, says he was "heavily surprised" there was no appetite for a trade union at the company's Moscow plant when he arrived to take up his post.
The French automaker has been active in Russia since 2005, with its acquisition of the Moscow factory, unusually situated in the heart of one of the world's most populous metropolis, but it it appears the factory's 5,000 employees prefer to adopt a works council style means of representation instead.
"When I arrived I was heavily surprised," Renault Russia general director, Bruno Ancelin, told just-auto at this week's Moscow Motor Show. "The weight of the trade unions is very important [in France and UK for example].
"The weight of the trade unions is not very important in Renault Russia. People are used to skip between one company and another – they give no importance to the power of a union. I did not destroy the trade unions of Renault Russia.
"We have a council and the council, you must respect."
However, the Renault director conceded compared to France, the power of the union at the Avtoframos plant was "frankly speaking…nothing," although he was at pains to point out the automaker conducted its corporate culture at standards similar to his home country and provided reasonable wages.
"The salaries we give to our workers in Moscow are good salaries," said Ancelin. "We are not the best of the market – we know that – but we are respecting the people."
Despite heightening tensions between Russia and the West and the imposition of tit for tat sanctions in response the crisis in Ukraine, the Renault director in Moscow says he stresses the automaker's desire to use his operation as a foundation to strengthen domestic manufacturing.
"Sometimes I say to the government people I am meeting, I am not [just] the boss of Renault, I am one of the guys who wants to renovate the automotive industry of Russia.
"What they care [about] is they find the people – even if they are foreigners – in order to help them to restore the pride of the industry.
"In former times of the USSR, industry was so powerful, but it was totally dedicated to military needs. Now they are conscious they need to dedicate industry to the civil need.
"Here, this is exactly what is very rewarding and I knew a little bit of that when I accepted the job proposed to me by [Carlos] Ghosn.
"I am a man who is living industry and want to create industry, plants, supply chain and so on."
Renault Russia produces five CKD models at its |Moscow factory with its 180,000 vehicle capacity: Logan 1, Sandero 1, Duster, Fluence and Megane phase 2.
Avtoframos, a contraction of the Russian word for auto, France and Moscow, started as a joint venture with the Russian capital to produce and commercialise Renault products in 1998 and is now wholly owned by the Paris-based manufacturer.