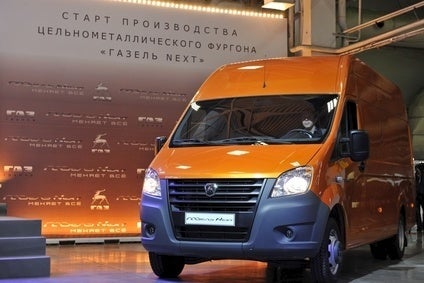 GAZ Group has started mass production of its GAZelle Next panel van and claims it is the first Russian brand competing with foreign vehicles in the segment.
The Russian automaker says it undertook "large-scale production modernisation" while preparing for the new model, with investment reaching around EUR132m (US$146m).
The new model is presented in two versions: a cargo van and a cargo-passenger combi van.
The body of GAZelle Next is made of zinc-coated steel and some of its elements from high-duty fibreglass. The van features a new 80L plastic fuel tank, while frame reinforcements ensure rigidity and reliability of the vehicle structure.
New automated welding and stamping facilities have been developed and the painting and assembly lines have been upgraded for the new GAZelle Next panel van production at GAZ.
"From the technical point of view, the new project is the most complex and large-scale project that GAZ Group has been implementing for the last 15 years," said GAZ Group president, Vadim Sorokin.
"The approaches to the vehicle development and new automated facility construction allowed us to create a vehicle with functionality, long life-cycle and low cost of ownership.
"The GAZelle Next market launch will allow GAZ Group not only to extend its presence in the markets of Russia and the CIS but also to develop export programmes."