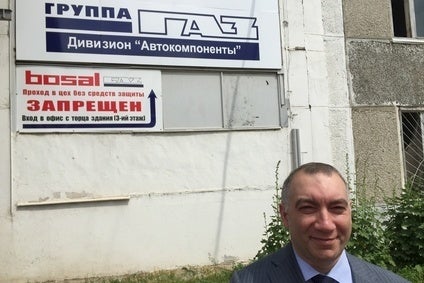 GAZ Group's supply division is welcoming the rouble depreciation as a genuine business opportunity but noted it had to submit its tender to manufacture for its parent in just the same way as any other competitor.
The Autocomponent Division includes the GAZ plant supply production facilities: fittings, wheels and steering control units; forging, casting, non-ferrous casting, press and frame production; the axle facility, tool production as well as the dies and moulds operation and the Kanash axle site.
GAZ Group says it is one of the three largest domestic manufacturers of autocomponents in Russia, having a share of not less than less than 10% in segments such as axles, suspension, moulded parts, iron casting, forged products, wheels and springs.
GAZ has established two joint ventures at its Nizhny Novgorod factory around 250 miles east of Moscow – with Bosal for exhaust systems and Bulten for fasteners, with Volkswagen Group Rus choosing the former for its Jetta, Skoda, Octavia and Yeti models as the rouble situation aids domestic suppliers to be competitive.
"Absolutely, for sure, we are taking benefit from this [rouble] situation," Autocomponents Division director, Kirill Epshteyn, told just-auto at the Bosal exhaust joint venture site at the Nizhny Novgorod plant.
"But I like to remind you this joint venture was established back when the Euro was RUB40 [current rate is RUB61).
"You might believe it or not, we went through all objective processes to become [Volkswagen exhaust] supplier to the conveyer [GAZ]. There were no preferences – it was a regular supply tender and we won it.
"After proving ourselves as a stable supplier to the conveyor, we decided to take the next step. It was a totally different product because the exhaust system for a passenger car is more sophisticated than a truck exhaust.
"So we had to make additional investment [and] starting 2013, we became a regular supplier to Volkswagen. That is not the end of the line – we have some more product in the pipeline – that is a commercial secret."
The Autocomponents and Bosal joint venture is currently operating one shift, but the division director noted the subsidiary was "trying, trying our best" to increase the number of suppliers.
"Today we are running at one shift [and] if need be, we know perfectly well to ramp up and double the shift, we can do that in no time."
The Autocomponents Division is one of five in GAZ with 21 product groups and manufactures itself in areas such as axles, stampings and iron castings as well as operating with its joint ventures.
The division also produces chassis frames for the Mitsubishi Pajero Sport and is preparing for manufacture of wheel discs with Italian MW.
GAZ has equally been nominated by Ford Sollers to supply crankshaft castings for the 1.6 Ti-VCT to its Russian engine building plant which will be launched this year.