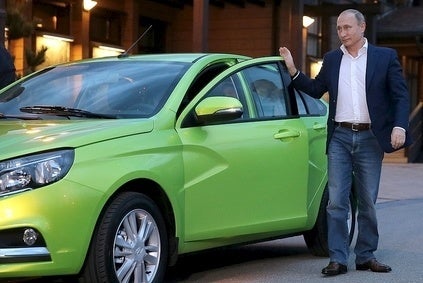 AvtoVAZ says its new Lada Vesta will launch in dealerships across Russia on 25 November, although it is initially planning for modest volumes as it aims to secure quality issues.
The automaker is pinning significant hope on the new model in a bid to tempt shy domestic consumers back into Russian showrooms against the backdrop of most manufacturers' catastrophically plummeting sales.
Russia has been effectively ostracised by much of the international community following its annexation of Crimea and what many see as its destabalisation of Eastern Ukraine, while The Kremlin's new involvement in air strikes on Syria is also adding an unknown dimension to conducting business with Moscow.
But despite the economic travails, the new Vesta received a highly-welcome publicity boost last week as President Vladimir Putin was pictured at the wheel of the new model accompanied by AvtoVAZ CEO, Bo Andersson with the Russian Head of State arriving at high speed flanked by heavy security.
"The new Vesta will start simultaneously at all dealerships and in all [Russian] States…at one minute past midnight on 25 November," an AvtoVAZ spokesman told just-auto from the manufacturer's headquarters in Togliatti.
"The position with Vesta is we are not in a hurry and without a product of world class quality, we can't win market gain, so that is why we are double-checking quality of each car. That is why by the end of this year, volume will be around 5,000.
"As for next year, it will depend on the volume of the market."
The AvtoVAZ spokesman added it was looking to convince Russian consumers it was not putting something onto the domestic market which was "cheap or old," but rather focusing on genuine quality.
"It is a new brand, a new car, with world class performance and quality," he noted.
"On 15 December, we are launching the other model of our new DNA, the 'X-styled' DNA we are implementing. We are starting production of Lada X-Ray hatchback that will go on sale in February for the Russian market.
"The only difference is this [is] based on B-zero platform."
Following his drive in the Vesta, President Putin urged Russian suppliers and automakers to take advantage of the current – and major – competitive advantage being given to them as the rouble struggles against overseas currencies.
The Kremlin is also supporting the Russian market with a raft of measures including supporting interest rate subsidies, continuing a scrappage scheme and more favourable access to credit, but latest figures from the Association of European Businesses Automobile Manufacturers Committee nonetheless showed a 29% collapse in sales last month.