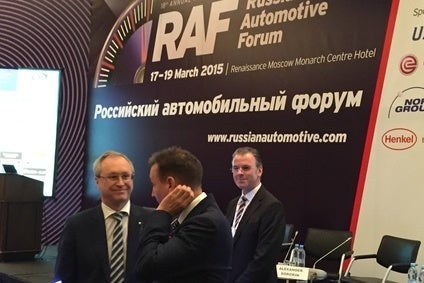 AvtoVAZ is urging the Russian government not to delay implementing Euro V emissions standards as the country increasingly addresses environmental considerations.
Euro V controls are believed to be on the way next year and although some have questioned their need in a country as vast as Russia with relatively little population, AvtoVAZ is backing their introduction.
"We are all in support of Euro V, please don't delay it or it will make Russia a second class country," AvtoVAZ CEO, Bo Andersson said at this week's Russian Automotive Forum (RAF) in Moscow.
The Russian capital is regularly snarled up with huge traffic jams making air quality assume importance, although sweeping implementation of parking charges is starting to address the issue of over-crowding particularly in the city centre.
Andersson also hailed the alliance with Renault-Nissan that has seen the Russian company undertake a substantial product renewal programme.
"We are an extended part of the Renault-Nissan alliance," he said. "We must be competitive on the vehicles we supply to them – we need to make sure we are competitive any given day. It is our reputation in the Renault-Nissan alliance.
"We launched eight derivatives of Lada vehicles. The first 20 years of AvtoVAZ, they launched 16 new products, at that time the Soviet Union exported Ladas, caviar and vodka."
The AvtoVAZ chief stressed the importance of manufacture to the automaker, noting 40,000 out of the 53,000-strong workforce were involved in production.
"They make me get up at 5am every morning," said Andersson. "We will continue to improve the management culture [and] customer satisfaction."
The key role AvtoVAZ plays in contributing to the Russian economy was highlighted with Andersson's comments the pay roll for the 53,000 employees was RUB22bn (US$368m) last year and although staff numbers had been cut, the CEO told just-auto no further lay-offs were envisaged.
AvtoVAZ also has RUB114bn of supply business, or RUB636m every day, of which the Russian Federation accounts for 87%.
"This year is a difficult year, but we see it as our year," said Andersson. "We have a lot of work to do, we have a plan, the plan is product, product, product."