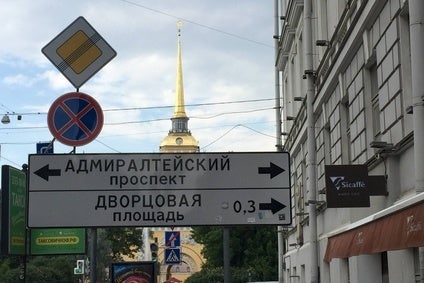 One analyst is estimating emissions reduction capacity using autonomous driving to be as high as 30%, with suppliers moving increasingly to providing necessary technology to make the theory a reality.
Predictions vary wildly as to what date mature markets will concretely see autonomous vehicles on the roads, particularly as legislation lags far behind rapid advances in components, but self-driving cars are being hailed as a way to cut emissions and drive down accident rates.
"When you talk about autonomous driving…I would like you to remember three key numbers: 90, 60 and 30," Boston Consulting Group senior partner, Nikolaus Lang told delegates at this year's Saint Petersburg International Economic Forum. "These are key: 90% fewer accidents, 60% more throughput on roads and 30% less fuel emission [and] fuel usage.
"Today we have a very traditional way of transport, but 25 years ahead we will have a majority of transport modes not only connected to the internet and digitally, but also highly autonomous.
"There is tremendous potential in making cars more automated. If you talk about revolution in transport, you are talking about multimodal fusion. It does not mean one mode of transport is paramount – this multimodal fusion is something we feel is very important."
The BCG senior partner also emphasised such a multimodal approach only being possible with cooperation between public authorities and private companies working "in a seamless manner," while autonomous driving required far deeper legislative analysis.
"We will not have these autonomous vehicles if the public authorities do not provide the legislative framework, but also the infrastructure to make [it] happen," added Lang.
"Many people say [with] technology many things are feasible, but from a legislative point of view it is a much bigger challenge. There a lot of discussions, whether it is cybersecurity or whether it is law."
Addressing the same delegates on the panel at St Petersburg, titled: "The Coming Revolution in Transport," Kamaz director general, Sergey Kogogin nonetheless highlighted the significant challenges in any introduction of automated driving in Russia, not least its huge geography and climactic conditions.
"We have already stepped into the transport revolution and talking about autonomous, is it possible? We can answer yes," said Kogogin. "It is clear if we want to improve transportation of passengers and loads, it is very important every centimetre of space must be utilised.
"It is economic necessity to use resources in the best possible way because we in Russia have a vast territory. I don't believe we will be able to change the road infrastructure in the next 15-20 years.
"Using the existing infrastructure today, this will be possible with use of the new autonomous transport and we believe the growth can be 60%-80% of the present road network if we manage to launch autonomous transport.
"This will be a new challenge for Russia because we will be able to catch up to other countries."