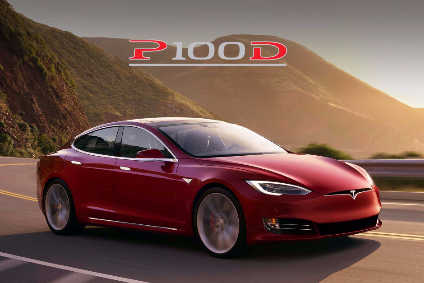 Tesla has revised the Model S and added a larger battery pack which gives the car jaw-dropping acceleration and a longer range on full charge.
Tesla says the revised Model S P100D with 'Ludicrous mode' is the third fastest accelerating production car ever produced, with a 0-60 mph time of just 2.5 seconds. However, both the LaFerrari and the Porsche 918 Spyder were limited run, million dollar vehicles and cannot be bought new, Tesla maintains.
In addition, while those cars are small two seaters with very little luggage space, the pure electric, all-wheel drive Model S P100D has four doors, seats up to 5 adults plus 2 children and has exceptional cargo capacity, Tesla points out.
The new 100 kWh battery also increases range substantially to an estimated 315 miles on the EPA cycle and 613 km on the EU cycle, making it "the first to go beyond 300 miles and the longest range production electric vehicle by far", according to Tesla.
The larger battery pack is also available on the Model X, "making the world's quickest SUV even faster". Model X P100D with Ludicrous mode accelerates to 60 mph in 2.9 seconds and travels up to 289 miles EPA estimated and 542 km EU on a single charge. Model X is also a pure electric SUV and can seat up to seven adults.
Tesla customers who have ordered a P90D Ludicrous, but not taken delivery, can upgrade to the 100 kWh pack for US$10,000. Existing P90D Ludicrous owners can also upgrade to a 100 kWh pack, but for US$20,000, as their used 90 kWh pack will have to be recycled.
Tesla points out that while the P100D Ludicrous is "obviously an expensive vehicle", it wants to "emphasize that every sale helps pay for the smaller and much more affordable Tesla Model 3 that is in development".
Tesla's business strategy is currently focused on developing a higher volume 'Model 3' which is planned for market launch in 2018, as well as to turn a profit. Tesla recorded a US$292m loss for the second quarter, while the automaker also delivered fewer cars in Q2 than originally planned as a result of what it says is the company's steep production ramp on the Model X electric SUV.