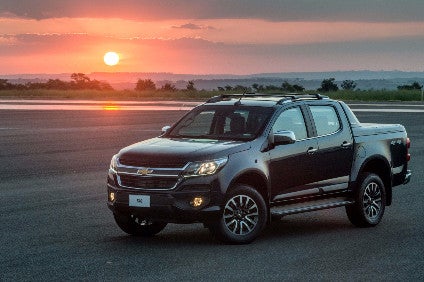 The market for medium size pickups here in Brazil may be small but it keeps growing largely thanks to sales in medium-size and small cities, especially those where agribusiness is strong. In 2015 the sector accounted for 4.5% of all vehicle sales, rising to 5.9% in the first quarter of 2016.
The model update cycle speeded up in 2016 with the brand new Fiat Toro joining the fray with all versions offering 1,000 kg/2,204 lbs or slightly higher payload, five passengers included. Toyota's Argentina-built Hilux, renewed late in 2015, has, as we suggested, kicked Chevrolet's S10 from leadership in the first four months of 2016 (the GM vehicle has been segment best-seller since launch 21 years ago). Ford's Ranger was also updated.
Now the S10 has been given a more modern look with a new front section, including LED DRLs in top versions. The rear end is untouched, though. Inside, new materials have been introduced, an eight inch multimedia screen with Gen-2 connectivity and OnStar service was added. There are now alerts for unintended lane change and following too close.
Power steering is now electric assist and the flexible-fuel engine was enlarged to 2.5 litres, developing 203bhp and 197.5lb-ft (on ethanol). The diesel option still makes 197bhp and the segment's highest torque of 369lb-ft, coupled to an automatic gearbox; reduced to 324.8lb-ft if fitted with a manual gearbox; both have six speeds.
Kerb weight has been reduced by up to 35 kg/77lb. Prices were held: BRL97,890/US$27,800 to BRL67,490/$47,600. There are 13 versions.
As for the Ranger, the front section was redesigned but not the rear. The top Limited is fitted with a chromed, tubular anti-roll bar and side running boards. Ford has refurbished the cabin with new materials, multi-function steering wheel, and a partially-configurable instrument cluster, together with an eight inch multimedia screen.
The Ford has improved in active (ESC) and passive safety (seven airbags including one for the driver's knees), all standard. Car technology like adaptive cruise control, autonomous anti-collision braking system and unintended lane change assistant are also offered along with rear view camera, electronically-controlled high beam and front and rear distance sensors.
The Ranger also is now fitted with electrically assisted steering in all versions to contribute to up to 15% fuel economy improvement for the three available engines: a 2.5-litre/170bhp/180 lb-ft, flexible-fuel four-cylinder and two diesels; a 2.2-litre/158bhp/282lb-ft four-cylinder and a 3.2-litre/197bhp/347lb-ft five-cylinder.
In total there are 10 versions – all double-cab – RWD and FWD (the latter diesel only), five-speed manual and six-speed automatic gearboxes. Prices range from BRL99,500/$28,300 (XLS, flex) to BRL 79,900/$51,100 (Limited, Diesel). It is the first pick-up ever sold in Brazil with a five-year warranty.