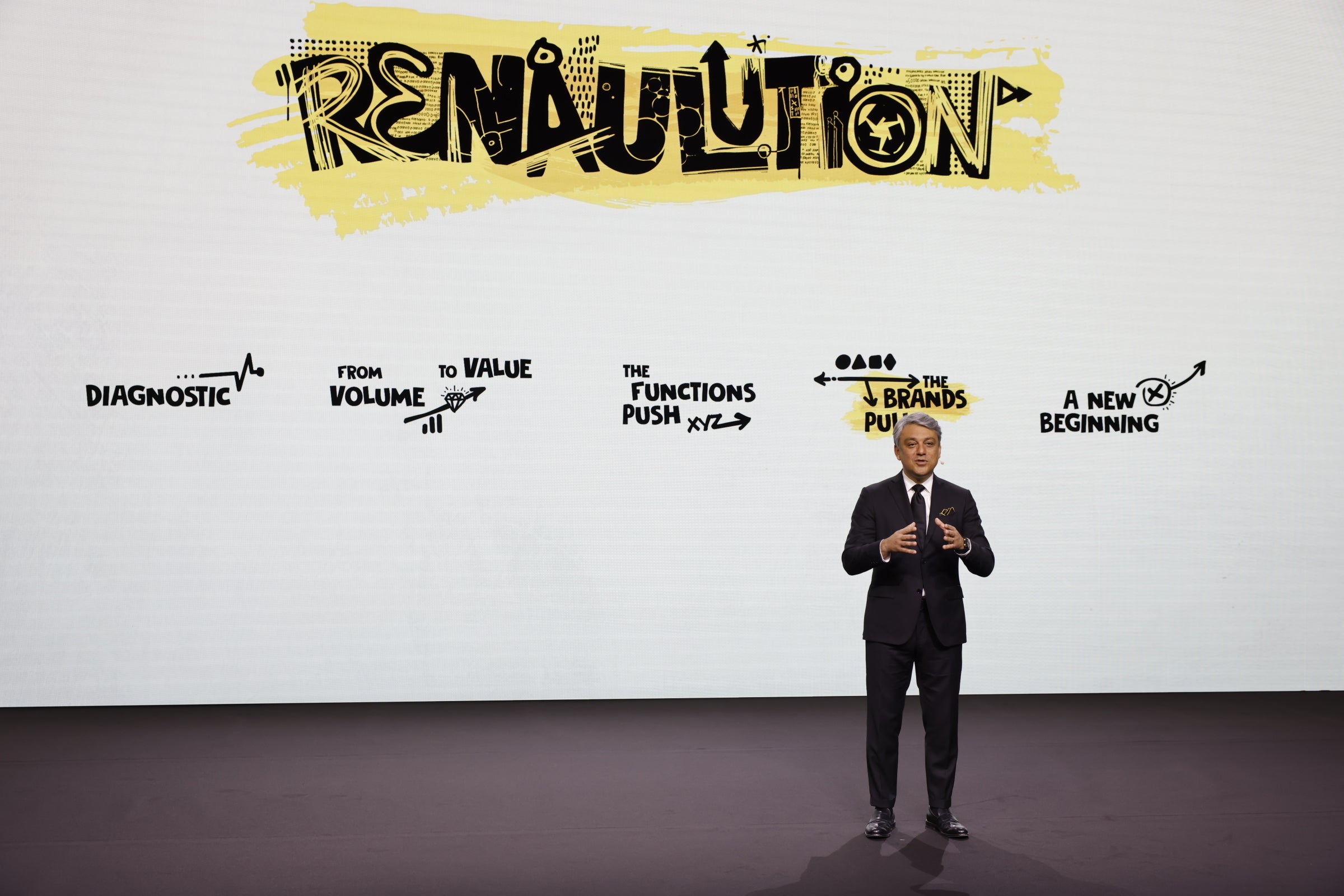 Claiming to be "significantly ahead of its initial targets", Renault Group today opened "the third chapter of its Renaulution plan: Revolution" at a press event in Paris.
The automaker said it was focusing resources on the value chains arising from the transformation of the automotive and mobility industry: electric vehicles (EV), software, new mobility services and circular economy, as well as ICE & hybrid vehicles.
"Renault Group aims at becoming a next generation automotive company built on five focused businesses addressing all the new value chains," it said in a statement.
These are Ampere, described as "the first EV & software pure player born from an OEM disruption"; Alpine, "a high end, zero emission global brand with a racing pedigree [and] ua nique asset light model combined with proprietary technologies"; Mobilize, "built around a leading financial services company to enter the market of new mobility, energy and data based services, The Future Is Neutral, "the first 360° circular economy company in the automotive industry from closed loop in materials to battery recycling", Power, "the traditional core business will continue to develop innovative low emissions ICE & hybrid vehicles under the Renault, Dacia and Renault LCV brands, each with their dedicated organization and governance".
For the latter, the automaker and Geely also announced today the "creation of a leading worldwide Tier 1 supplier of ICE & hybrid powertrain technologies".
The automaker expects to launch an Ampere IPO on Euronext Paris in second half 2023, if market conditions permit, with the group keeping a strong majority holding with support of potential cornerstone investors including Qualcomm Technologies.
Alpine was set to "expand globally with half of its future growth outside of Europe leveraging commercial partnerships and investor support". It is also open to capitalise on the financial valuation of its F1 Team assets.
Renault, long a major player in the light commercial vehicles (LCV) segment, especially in Europe, also said it would launch, "in partnership with an OEM", a "game changing" EV & software defined van family dubbed FlexEVan which will allow real time, end to end operations monitoring plus data driven fleet management.
"FlexEVan's disruptive concept and technology will ensure [a 30% cost of usage reduction for mobility operators]," the company claimed.
For 2025-2030, the group expects operating margin: above 8% in 2025 and above 10% by 2030, free cash flow above EUR2bn per year on average over 2023-2025 and above EUR3bn per year on average over 2026-2030.
It also plans to restore dividend payments from 2023 (for fiscal 2022) pending AGM approval.
"This dividend policy, a first for Renault Group, will gradually grow, in a disciplined manner, up to 35% payout ratio of group consolidated net income – parent share, in the mid term." the company said. "To do so, the group must achieve its first priority: return to an investment grade rating."
The automaker also wants to grow employees' shareholding to 10% by 2030.
"Today's announcements are a new sign of [the group's] determination to prepare the company for the future challenges and opportunities generated by the transformation of our industry." said CEO Luca de Meo.
"After having executed one of the fastest and unexpected recovery plans, after having prepared the company for growth by securing the development of the best product line up in decades, we intend to position ourselves faster and stronger than competition on the new automotive value chains: EV, software, new mobility and circular economy.
"All this is one of the most progressive re-engineering projects of the recent years in our industry, a Revolution in its kind.
"What the Group has achieved in terms of financial turnaround in just two years is outstanding and we will not stop here," added CFO Thierry Pieton.
See also: Geely and Renault agree to form new ICE powertrain company
Renault and Google deepen partnership for 'software defined vehicle'