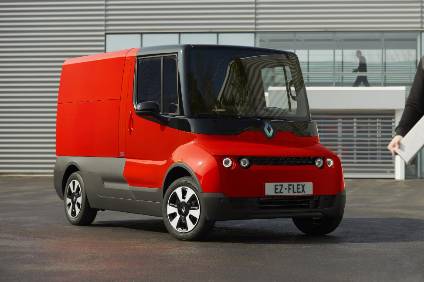 Renault is to present its 'EZ-FLEX', described as an innovative experiment to better understand last-mile urban delivery.
The van will be experimented with various professionals in Europe to collect all relevant data usage in order to better understand their needs associated with daily delivery in urban areas.
Renault says the volume of transported goods in the world is expected to quadruple by 2050. Within this context, at the end of 2018, Renault presented its vision of the future of urban delivery in 2030 with the electric, autonomous and connected Renault EZ-PRO concept car. With EZ-FLEX, an electric and connected vehicle, Renault continues to prepare for the future by exploring new uses of last-mile delivery.
The van will be at the Renault stand at the VIVA Technology fair from 16 to 18 May 2019 at Paris Expo Porte de Versailles (France).
Renault says the vehicle provides an optimal footprint in relation to its load space: the length (3.86 m), width (1.65 m) and height (1.88) are small enough to enable access to car parks.
The company says everything was designed to meet the needs of deliverers: the wide access to the driver's seat which facilitates ingress and egress, a highly visible central dashboard for quick and easy access to driving information, pedestrian and urban environment visibility and simple and efficient driving controls. The human machine interface is modern and fully integrated into the world of smartphones, Renault says.
As an electric vehicle, EZ-FLEX can access city centres, offering a range of 150 km adapted to the needs of urban delivery (urban deliveries require driving 50 km per day on average).
A dozen Renault EZ-FLEX vehicles will be lent to various professionals, companies, cities and municipalities in Europe. The experiment is expected to last about 2 years.
The vehicle is equipped with sensors to better understand the uses, and the professionals will enrich this data with their feedback during the experiment. Different data types will be collected: geolocation, mileage, range, use of openings, speed, stops, etc. This data will then be transferred via the vehicle's connected system, either in real time or once per day, to understand the reality of daily uses.
The analysis of the data, complemented by the professionals' feedback, will enable Renault to design vehicles which are better adapted to the evolutions in urban logistics. The goal is to have the ecosystem's players test a vehicle and its services in real-life conditions to obtain a shared vision of urban mobility of goods.
Through this experiment, Renault says it is initiating a new approach to prepare and design the innovations of tomorrow. Further, it claims this flexible approach, which is a breakthrough in the automotive industry, is very close to practices used in other sectors, such as gaming.