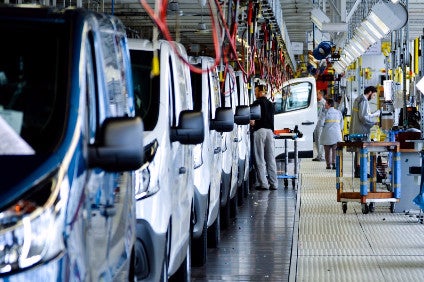 Renault's Sandouville plant in northwest France will build a new light commercial vehicle for Nissan.
NV300 van production will increase the factory's output by 100,000 units between 2016 and 2026, the automaker announced. A three-year, EUR230m project has converted Sandouville, near Le Havre, into a van production centre. The plant will make the Nissan on the same line as Renault's new Trafic.
"Production of the NV300 at Sandouville is a win-win for Renault and for Nissan. We maximise Renault manufacturing expertise and Nissan gets a top quality production site in the heart of the European market," said Renault CEO Carlos Ghosn.
Sandouville also produces the Vivaro derivatives for GM Europe's Opel and Vauxhall brands. The plant also soon will begin production of a new Fiat mid-size van.
Nissan and Renault are also developing a one-tonne pickup for Renault that will share some Nissan NP300 truck architecture.
Sandouville produced 93,000 Trafics last year. It builds around 460 vans a day for Renault and the other brands. Renault is adding 183 new jobs at the plant.
The agreement: 'Contract for a new dynamic of Renault growth and social development in France', signed in March 2013 between Renault and union representatives, paved the way for increased efficiency at Renault's plants throughout France, the automaker said.
It opened the door to strategic partnerships that promote growth.
Engines for the Trafic and NV300 are produced by the group plant at Cléon in Normandy which specialises in high-precision powertrain production.
In 2015, Renault claimed to be Europe's best-selling LCV brand for the 18th consecutive year.
Daimler's Mercedes Citan and Renault's Kangoo are produced at the Renault factory in Maubeuge (north France). At Batilly, Renault makes vans for Nissan (NV400), Opel and Vauxhall (Movano) as well as the Renault Master and Renault trucks.