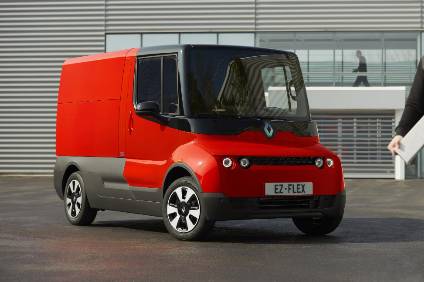 Groupe Renault is to conduct an initial experiment with La Poste of its EZ-FLEX light commercial vehicle to gain better understanding of future urban delivery practices.
Renault EZ-FLEX, revealed in April 2019, is an experimental, electric and connected light commercial vehicle featuring a modular rear design. Analysis of vehicle data and feedback from postal staff will serve for a greater understanding of the day-to-day realities of last mile deliveries.
In the long term, ten Renault EZ-FLEX vehciles will be loaned out in Europe to professionals, businesses, towns and communities for periods of up to two years.
"With traffic congestion in cities and the rise of e-commerce, urban deliveries are transforming," said Renault-Nissan Commercial Vehicles Division Alliance director, Denis Le Vot.
"As a European leader in vans and light commercial vehicles, Renault is duty bound to continue proposing disruptive solutions. EZ-FLEX, an experimental light commercial vehicle, gives us the opportunity to join forces with La Poste Group, through an innovative and collaborative approach designed to develop and anticipate future practices in urban deliveries."
For his part, La Poste Groupe EVP and COO, Services-Mail, Philippe Dorge added: "How do we support the growth of e-commerce while reducing pollution in our cities and making them more attractive? This is a major challenge for La Poste.
"Urban logistics is a key project in our strategy and we have signed agreements with 15 cities to implement solutions adapted to each one. To lay the groundwork for tomorrow's urban logistics, we are innovating continuously and testing new, increasingly responsible and efficient delivery modes that make life easier for our customers and delivery personnel alike.
"A long-standing partner of La Poste in the implementation of electric vehicle, Renault with EZ-FLEX is proposing an innovative and modular solution. Our feedback will be used to adapt light commercial vehicles to the needs of delivery staff."