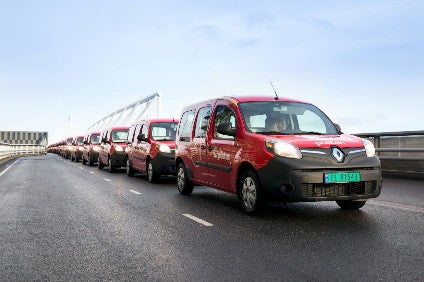 Posten, the Norwegian postal service, has ordered 240 Renault Kangoo Maxi ZEs. They will be used mostly in areas of high population density.
With an 'official' range of 170km, (80 to 125 km under usual driving conditions), the Kangoo EV "is well-suited to the everyday tasks of administrations and companies", Renault claimed.
Norway is very EV-friendly, with dedicated traffic lanes and free charging in Oslo, and Posten, which already has a fleet of 900 electric vehicles (cars, bikes, quadricycles, trailers), is targeting a 40% reduction in CO2 emissions by 2020. It alone accounts for 1% of CO2 emissions in Norway as a whole.
Over the last few years, electric vehicle sales in Norway have been stimulated by a committed government incentive policy. At the end of 2015, electric vehicle sales accounted for 20% of all new vehicle sales in the country. Renault expects to see 200,000 electric vehicles across the country by 2020, which is 10% of all the cars on the Norwegian roads.
In Norway, electric cars pay no VAT [sales tax] and road tax. They pay no parking fees, road tolls or ferry charges. And they are entitled to use bus lanes.