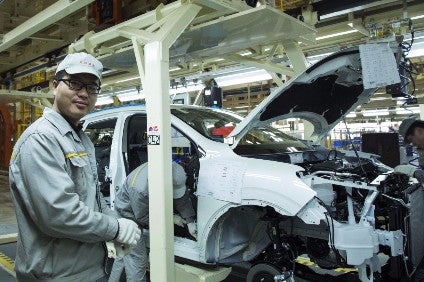 Renault has reported that its group revenues surged by 25.2% to EUR13,129m in the first quarter, boosted by the contribution of AvtoVAZ and higher global vehicle sales across its brands and through JVs across the world.
It said the 25.2% increase (19.7% excluding AvtoVAZ) resulted 'primarily from an increase in the group's brand volume and sales to partners'.
First quarter sales rose by 15.8% to 873,678 vehicles (including Lada) in a market that grew 4%. Sales volumes and market share increased in all regions., Renault said, while the Renault and Dacia brands set new sales records for a first quarter.
In Europe, group registrations rose 10% in a market up 8%, driven by new models and the 'confirmation of the good results of Kadjar, Clio 4, Captur and Duster'.
Outside Europe, the group posted a 100% increase in sales in Asia-Pacific and a 31% increase in the Africa-Middle East-India Region.
The Renault brand saw a 10.1% rise in registrations. Renault said the brand benefited from the complete renewal in 2016 of the Megane family car line-up. Electric vehicle sales increased by 46% to nearly 10,000 units (excluding Twizy) thanks to the 'success of New ZOE' (with a claimed range of 250 miles).
The Dacia brand posted a sales record for a first quarter with 112,457 registrations (up 9.5% year-on-year). Growth was boosted by a facelifted Sandero that launched in late 2016.
With the consolidation of AvtoVAZ (Lada) sales volumes, Russia has become the group's number-two
In China, Renault sold nearly 18,000 vehicles (compared with 3,400 in first-quarter 2016), including 10,000 New Koleos, launched at end-2016 and produced locally at a new plant in Wuhan.