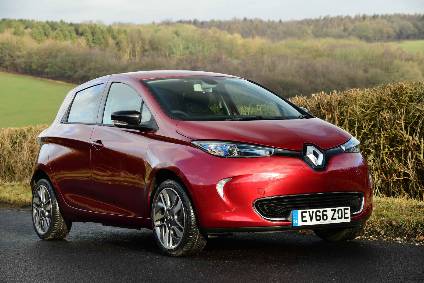 Renault said it had has signed its 100,000th electric vehicle battery leasing contract via RCI Bank and Services, the financial services arm of Groupe Renault .
Unlike Alliance partner Nissan, Renault , which claims to be Europe's leading electric vehicle manufacturer, has offered battery leasing since the launch of its first electric vehicle.
"Even in those countries where it is also possible to purchase the battery, leasing remains the preferred solution for the majority of our customers. In the UK, 94% of Zoe owners leased their battery in 2016," the automaker said in a statement.
The automaker said the leasing option, due to its lifetime warranty on leased batteries, "brings considerable peace of mind to users".
If the battery fails, or if its energy capacity drops significantly, the automaker will change or repair it free of charge, for the duration of the vehicle's life cycle. Therefore, used car buyers benefit from a guaranteed level of battery performance which is a significant advantage for owners.
Thanks to battery leasing, from later in 2017, owners of a Zoe with 22kWh pack will be able to upgrade to the new Z E 40 battery (an LG Chem -supplied 41kWh pack) and benefit from increased range (claimed NEDC distance of 250 miles, 'real-world' range of 186 miles in temperate conditions) for an additional cost yet to be announced.
Along with the new, longer range battery pack, Renault has introduced a more streamlined pricing scheme which is banded and reflects estimated annual mileage ensuring drivers only pay for what they need, starting from GBP49 per month here in the UK. New for 2017 was the Unlimited option for retail customers that has no mileage cap, at GBP110 per month.
"These options ease the control of running costs for Zoe owners. What's more, customers get optimal flexibility and the ability to adapt to changing personal needs, since they can switch options at any time," Renault said.
The car purchase deal includes a 'free', installed Chargemaster 7kW Homecharger – able to charge the Z E 40 battery from flat to full in seven to eight hours. The also-included 4+ Z E warranty and assistance package covers the car for four years or 100,000 miles (no mileage limit first two years) while vehicles with a battery hire contract have assistance cover linked to the period of hire. Breakdown cover includes running out of charge, emergency roadside repairs or repatriation to home 24/7/365 plus three years' of European driving cover for UK owners.
Groupe Renault UK has 160 dealers and 2016 sales rose 8% year on year to 137,506 vehicles. The UK operation topped the 2016 Auto Express Driver Power survey for dealer satisfaction.
See also our new vehicle review: New Renault Zoe Z.E. 40 – a 400km range electric car?