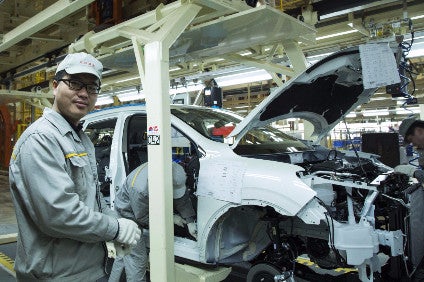 Carlos Ghosn, chairman and chief executive officer of Groupe Renault, and Zhu Yanfeng, chairman of Dongfeng Group, have opened the new Dongfeng Renault Automotive Company (DRAC) joint venture assembly plant in Wuhan, Hubei Province.
Just two years after the joint venture was formed, the first DRAC plant in China will start producing the Kadjar, Renault's latest SUV.
The facility, located in Wuhan, in Hubei Province, is a greenfield plant and local content from suppliers exceeds 80%.
The facility includes a vehicle assembly plant, a powertrain plant and an R&D centre to adapt French products to Chinese customers' requirements. It will have an initial production capacity of 150,000 vehicles per year and potential to double this to 300,000 vehicles.
Ghosn said: "This is a milestone in our long-term partnership with Dongfeng Group, as well as for Renault's growth. China is a core part of Renault's strategic plan."
Work started on the plant in January 2014. A year later, the joint venture had around 1,000 employees. At the end of 2015, the workforce totalled 2,000.
China-specific Kadjar equipment includes a panoramic sunroof, 4Control and independent rear suspension.
The SUV segment accounts for 30% of the Chinese market and is the fastest-growing segment, increasing by 53% in 2015.
The Chinese Kadjar was unveiled at the Guangzhou show in November and China sales start in March 2016.