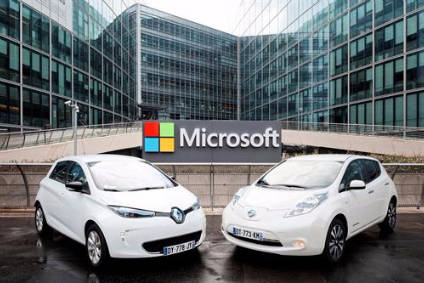 The Renault-Nissan Alliance and Microsoft Corp. have signed a global, multiyear agreement to partner on "next-generation technologies to advance connected driving experiences worldwide".
The companies say they will work together to develop next-generation connected services for cars powered by Microsoft Azure, one of the company's intelligent cloud offerings. It is claimed these new services will improve customer experience via advanced navigation, predictive maintenance and vehicle centric services, remote monitoring of car features, external mobile experiences and over-the-air updates.
"A car is becoming increasingly connected, intelligent and personal," said Ogi Redzic, Renault-Nissan Alliance senior vice-president, Connected Vehicles and Mobility Services. "Partnering with Microsoft allows us to accelerate the development of the associated key technologies needed to enable scenarios our customers want and build all-new ones they haven't even imagined. We aim to become the provider of connected mobility for everyone with one single global platform."
The Renault-Nissan Alliance aims to develop connectivity technologies and features to support the launch of more than ten vehicles with autonomous driving technology by 2020, with services to "maximise better use of newly found in-car free time".
Renault-Nissan said it will continuously develop and launch new connected services and applications that make it easier for people to stay connected to work, entertainment and social networks, and offer vehicle centric services that will simplify and enhance engagement with the car through usage-based information, remote access, remote diagnostics and preventive maintenance.
Microsoft Azure provides a "proven, secure global cloud platform with unlimited scale that allows Renault-Nissan to deliver services worldwide to its broad customer base," the Alliance said.