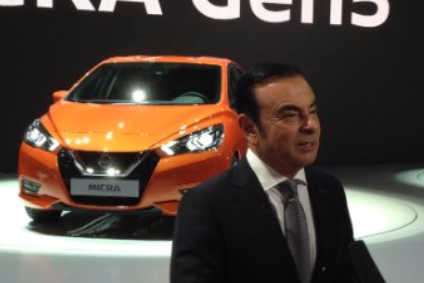 Nissan's investigation into alleged misconduct by disgraced chairman Carlos Ghosn is expanding to include Renault-Nissan finances, sources have told the Reuters news agency, a further sign Nissan may seek to loosen its French parent's hold on their global carmaking alliance.
According to the report, citing three unnamed sources, Nissan told Renault's board on Monday it had evidence of potential wrongdoing at Renault-Nissan BV, the Dutch venture overseeing alliance operations under Renault's ultimate control.
The private communication from Nissan chief executive Hiroto Saikawa – who has said he would ask the board to oust Ghosn as chairman on Thursday, came as the Japanese automaker, 43.4% owned by Renault, announced that an investigation had uncovered misconduct involving Ghosn including under reporting of his compensation and personal use of company assets.
Reuters noted that the 19 year history of the Renault-Nissan alliance, enlarged in 2016 to include Mitsubishi Motors, had been marked by tensions among the carmakers and the French government, Renault's main shareholder with a 15% stake.
Under government pressure, Ghosn, who is also Renault chairman and CEO, had agreed this year to explore a closer tie up that would tap deeper synergies, safeguard French industrial interests and make the alliance "irreversible", the report said.
The plan did not go down well in Tokyo. Nissan, while almost 60% bigger than Renault by sales, remained the junior partner in their shareholding hierarchy with a smaller reciprocal 15% non-voting stake in Renault, Reuters added.
At a news conference in Japan late on Monday, Saikawa had outlined three broad categories of accusation against Ghosn: under-reporting of compensation; misrepresenting company investments; and making personal use of company assets. He gave no examples, citing the secrecy of a police investigation.
The Nissan CEO nevertheless took aim at a Renault-led alliance setup that "concentrates power in one individual", and said a new board committee would examine its role in the scandal.
"In terms of structural issues, 43 percent is held by Renault and the head of Renault is currently serving as (chairman) of Nissan," Saikawa said.
"Of course this isn't the only cause, but it's one of the factors or drivers. So the committee … will have a deep dive on this issue as well."
Other media reports noted that unidentified men in suits had searched a small executive style jet at Tokyo's Haneda airport and claimed Nissan had purchased homes in four international cities for Ghosn's use.