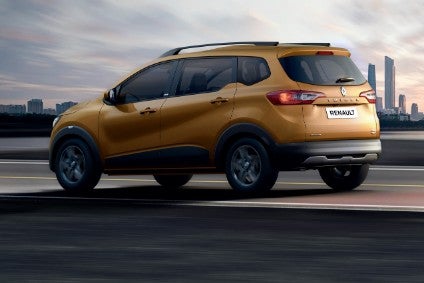 Seeking to revitalise falling sales in the Indian market, Renault has announced the Triber, an additional model which will be manufactured at the Alliance's RNAIPL plant in Tamil Nadu.
Formerly known by its RBC codename, the Triber slips below a tax threshold in the local market by being only 3,990mm long.
Even though the Triber is small, it is able to seat up to seven occupants. The standard engine is the Alliance's 1.0-litre three-cylinder petrol unit which has outputs of 72PS and 96Nm.
The Indian market suffered a 20.5 per cent fall in May to 239,033 passenger vehicles but Renault's sales fell by only 11.6 per cent to 5,949. The brand remains in eighth place for the year to date, well ahead of ninth placed Volkswagen (12,851) but behind Ford (35,516).
The addition of the Triber is part of Renault's ambitious goal to lift its Indian market sales to 200,000 a year by mid-2022. For the year to the end of May, deliveries number 31,398 units.