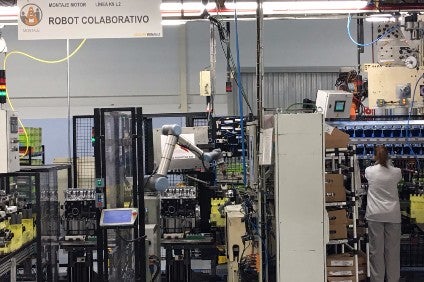 Renault says it is drawing from multiple disciplines as it progressively implements digitalisation techniques across its global footprint.
The French manufacturer made the comments at its Spanish plant in Valladolid, around an hour and a quarter north of Madrid, where new manufacturing thinking is forged in the white hot furnace of the practical reality of car production on the shop floor.
Industry 4.0 methods are highly evident at the Spanish factory, where collaborative robots, automated guided vehicles and instant messaging are very visibly employed to give a sense of a plant operating at a new dimension of production techniques, but the carmaker is also widening its vision to learn from other sectors.
"Industry 4.0 is moving every day," Renault global EVP manufacturing and supply chain, Jose-Vicente de los Mozos told just-auto at the carmaker's Valladolid plant. "[During] The next five years we will continue to implement new tools, integrated machines, integrated processes.
"Today, buying a car is a big thing. The way a customer can follow how his car is made, we want that to become a reality and we are working for this. We have 38 plants in the world and one of the difficulties is to keep standardisation; check, standardise and deploy around the world.
"We work with Nissan and we visited Daimler and suppliers from Germany, also aviation with Airbus, also the food industry. We are open to all industries, for example, Decathlon, Inter.
"Amazon is starting to deliver with drones. This type of breakthrough, we are [too] in terms of breakthrough ideas and processes."
As well as the new thinking, Renault is also looking to optimise its supply chain techniques, encouraging localisation and the provision of component manufacture parks as close to the main site as possible. The scale of that challenge can be gauged at Valladolid where some 300 lorries arrive daily to decant their products into the just-in-time machine.
"We need to create the environment to work with all suppliers," added Mozos. "In Spain we have developed supplier parks because we need suppliers very close to the plant. To implement that we need to adapt management systems as well.
"Suppliers are a key point – suppliers need to integrate in our industrial system.
"You can be in a country in a competitive or non-competitive way. A good example has been Russia. A carmaker has left and we have stayed. Our objective is 80% [localisation]. Europe is different, it is not tax, it is related to logistics cost.
"We want 100% of heavy goods close to the plant."
Part of that improvement using localised suppliers also comes from component traceability to monitor maintenance and manage consumption.
Each Renault plant is free to develop innovations, while three pilot factories, Cleon in France, Valladolid in Spain and Curitiba in Brazil, test on a wider scale for subsequent deployment at other sites.
Renault's manufacturing envelope covers 36 production sites and 12 logistics centres with the automaker employing 66,000 staff worldwide.