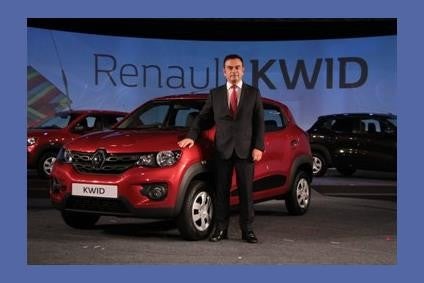 Renault is planning to shorten launch times and introduce more new products in India.
The automaker, which launched three products in the past five years, now plans to launch one each year until 2020, Business Standard reported.
Chief executive officer Sumit Sawhney told the publication the company plans to launch one new car every year as part of its mid-term strategy. While the target during 2017 is to sustain growth boosted by the Kwid in 2016, Renault India wants to be among the top five by 2020 compared with seventh now.
Sawhney did not detail segments or products but said the new products would create new segments, as the Kwid did. The company will launch a new car by the end of this year.
New products – integral to Renault's strategy – will be manufactured with parts sourced locally to suit Indian consumer taste. This will ensure attractive prices and competitive operating costs for all new products, the CEO added.
With three mainstream segment-defining products – Duster, Lodgy and Kwid – in India, Renault is working very hard to increase its market share, Sawhney told Business Standard. Renault India's current market share is around 4.5% but expects to touch 5% as part of the mid-term strategy.
Renault, in India for the past five years, contests only 30% of the car market with the Kwid, a small car, the compact SUV Duster and the MPV Lodgy.
As part of its strategy to grow sales in India, the company is planning to expand its dealer network from the current 270 to around 320 this year. It will also increase its used car presence from the current 20 dealers to 50.