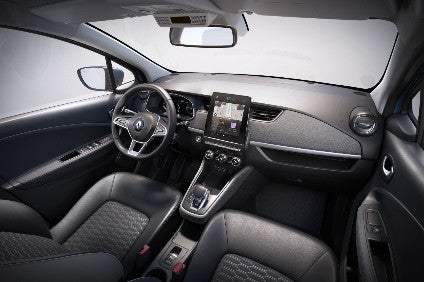 Renault has given its little Zoe EV a third update with 52 kWh battery and an additional 100kW R135 electric motor option and boosted range to 242 miles under WLTP conditions.
This comes with some exterior styling tweaks, new colours, a redesigned interior with more premium materials and a new 10-inch TFT instrument cluster.
The Iconic model has 100% recycled seat trim, there is a faster charging option of 50kW DC capability, LED headlamps are now standard, wireless smartphone charging is now an option and there is a new, Nissan Leaf-style regenerative braking B mode that allows single pedal driving.
The 80kW motor remains available.
Bigger LED tail lamps now include dynamic indicators that sweep from the centre outwards and repeater indicator signals integrated in the door mirrors also use LED technology.
Wheels are redesigned with three different diameters available – 15, 16 and 17 inches.
The new 10-inch TFT instrument cluster contains the main driving information including an eco-meter and customisable lighting and layout. On versions equipped with sat-nav the cluster also relays turn-by-turn instructions.
The 100% recycled seat upholstery uses the traditional process of carded yarn manufacturing which creates a quality material without melting or chemical transformation, this fabric is made from safety belt scrap and plastic waste (PET) materials.
This innovation is a claimed first for the automotive industry, its sourcing and short-loop manufacture helping reducing CO² emissions by over 60% compared to more traditional materials.
The multimedia system also gets a larger 9.3-inch touchscreen. This system controls the main functions of the vehicle and can be enhanced with specific operations, such as the real time availability of charging stations. Smartphone connectivity is taken care of by Apple CarPlay and Android Auto.
Standard across the range is a new electronic parking brake.
The 52 kWh battery pack useable range of 242 miles (WLTP) is an increase of around 30% over the old 40 kWh pack. It now also offers fast direct current (DC) charging, in addition to the alternating current charging (AC) options already available at home or on the street.
The battery has not increased in size physically.
For comparison, the first 2012 Zoe with 22 kWh battery offered around 93 miles of real range. The 2016 update with 41kWh battery doubled that to 186 miles.
Using a 7kW wallbox, the latest car can charge from 0 to 100% in nine hours and 25 minutes.
A 22kW roadside charger can deliver a useful 78 miles of range in an hour.
The new 50kW DC charging option can add around 90 miles of range in 30 minutes.