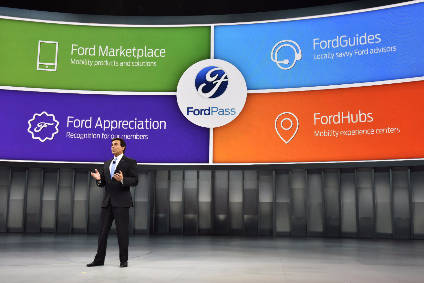 Ford said it had booked record full year pre-tax profit of US$10.8bn (up $3.5bn) in 2015 and net income of $7.4bn (up $6.1bn) on revenue up $5.5bn to $149.6bn. Fourth quarter pre-tax profit rose 96% to $2.6bn. Wholesale vehicle shipments rose 312,000 units to 6,635,000. Better yet, Europe returned to pre-tax profit for the first time in years.
It said the North America region had "outstanding" full year results, with strong growth in the top line, an operating margin of 10.2%, up 1.2%, and higher pre-tax profit. The fourth quarter saw record results and the full year pre-tax profit of $9.3bn was up $1.9bn, generating profit sharing payments of approximately $9,300 per eligible union employee on a full year basis. Pre-tax results for this year are expected to be about equal to 2015.
South America was again a disaster zone for the automaker with wholesale volume, revenue and operating margin each lower than a year ago, "as a result of the continued deterioration of the business environment" though the pre-tax full year loss of $832m was $332m better than a year ago due to higher net pricing and market share. A larger pre-tax loss is expected in 2015.
Europe, in contrast, returned to profitability with volume up 10% and revenue down slightly. Pre-tax profit improved $857m to $259m with fourth quarter profit up by $428M to $131M driven by market factors and lower costs as a result of the company's transformation plan. Better pre-tax results are expected for 2016.
Middle East and Africa booked its first pre-tax profit (up $51m to $31m) in the two years since the region became a business unit with operating margin also improved from a year ago mainly driven by favorable exchange. For 2016, pre-tax results are seen equal to or higher than 2015.
Asia Pacific (in which Ford announced this week its withdrawal from Japan and Indonesia, saying there was no chance of profit in those markets) delivered, according to the automaker, "an outstanding year" with record pre-tax profit up 29% from a year ago to $765m, driven by record profit in Q4, record volume, revenue and operating margin in 2015. For the full year, wholesales, operating margin and pre-tax results were higher than a year ago reflecting the strength of new products. Pre-tax results should be higher in 2016.
"We delivered improvements in 2015 on every single driver of value in our business – growth, returns, risk, and rewards. We look forward to 2016 and strengthening the value proposition at Ford even further," said Bob Shanks, Ford's CFO.
"We promised a breakthrough year in 2015, and we delivered," added president and CEO Mark Fields.