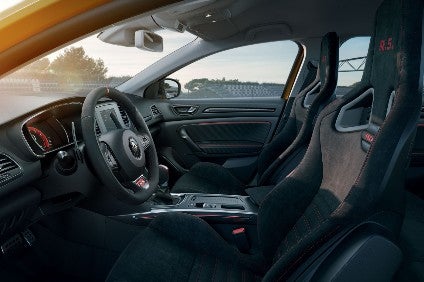 Recaro Automotive Seating said it would supply performance seats for the new Renault Megane RS Trophy.
The planned new model, built at the automaker's Palencia plant in Spain (the hottest Clio is final-assembled at the Alpine's home Dieppe), is due out at the end of the year with a 1.8 litre, I4 turbocharged engine developing 221kW (300PS or 296hp). This new 'hot hatch' will optionally be offered equipped with Recaro seats.
The supplier claims they are "inspired by thoroughbred racing shells" and "offer direct feedback from the road and excellent body support".
"This enables the driver to feel the car's lateral acceleration precisely and adjust cornering speeds accordingly." Recaro seats are also optionallin the the Megane RS.
The premium performance seats offer pronounced body support of the shoulders and upper body – resulting in the occupant sitting in, rather than on, the seat. The RS Trophy driver's seat hip point is 2cm lower than in the model's standard seat. This lowers the vehicle's centre of gravity.
Recaro has supplied seats for Renault's Sport model family for years.
The RS Trophy is Renault's first Megane to break the 300PS (296hp) barrier thanks to an innovative turbocharger with ceramic bearings.
This top sports model can accelerate from 0 to 100km/h in just 5.7 seconds. Built on a series production cup platform, the Trophy is distinguished by bright paintwork in familiar Sirius Yellow or the new "aggressive" Tonic Orange.