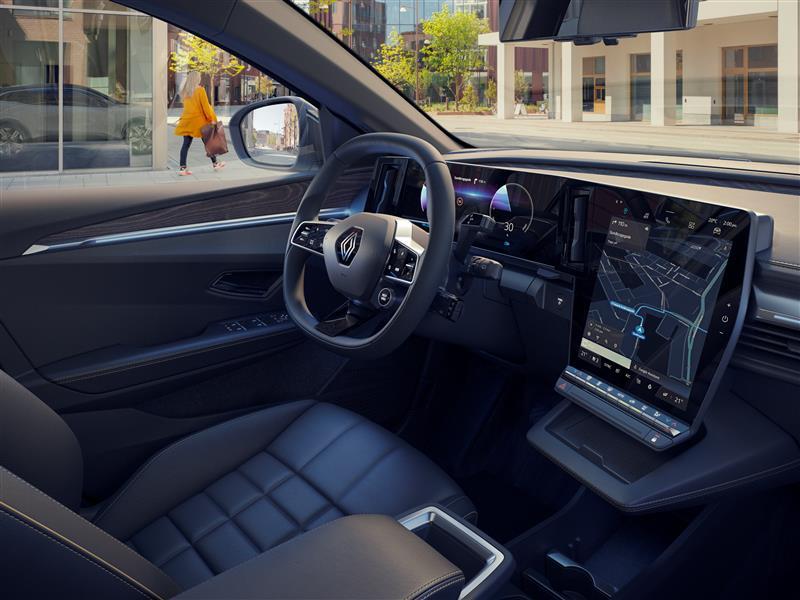 Semiconductor giant Qualcomm will supply a key computing chip for the digital dashboard in a new Renault electric vehicle (EV), the Megane E-TECH Electric.
Renault Group will utilize the 3rd Generation Snapdragon Automotive Cockpit Platforms from Qualcomm Technologies to power the vehicle's technically advanced infotainment system— which is comprised of portrait-sized touchscreen infotainment displays for audio, visual and navigational functions.
The Mégane E-TECH Electric's digital cockpit is powered by Android Automotive Operating System (AAOS).
Infotainment systems in the new Mégane E-TECH Electric will come equipped with built-in Google apps and services to provide intelligent infotainment and in-vehicle customer applications (such as Google Assistant, Google Maps and Google Play).
"Digital cockpits have quickly transformed how drivers and passengers interact with their vehicles, allowing for more personalization and enhanced comfort," said Thierry Cammal, Alliance Global Vice President Renault Software Factory. "We believe that our continued work with Google and Qualcomm Technologies is critical to redefining in-vehicle experiences, allowing us to provide advanced features and capabilities to elevate the experiences for drivers and passengers."
"We recognize consumers' and automakers' increasing demands for intelligent and safe in-vehicle experiences, and we are proud to have our 3rd Generation Snapdragon Automotive Cockpit Platforms play a role in helping meet these needs with the Mégane E-TECH Electric vehicles," said Nakul Duggal, senior vice president & GM, automotive, Qualcomm Technologies, Inc. "We look forward to extending our long-term relationships with industry leaders like Google and Renault Group to reimagine and redesign the overall experience for drivers and passengers within this new digital age."
Bakar Sadik Agwan, Senior Automotive Consulting Analyst at GlobalData, a leading data and analytics company, told Just Auto that earlier this year, Qualcomm extended its partnership with General Motors with regards to digital cockpits, next-gen telematics and ADAS development, so the expansion to Renault is 'significant'.
GM said it would deploy Qualcomm's third generation Snapdragon Automotive Cockpit Platforms in its upcoming vehicles.
"While Qualcomm is not new to the automotive sector and has been supplying several products for nearly two decades, the industry's acceleration of its move from providing the mechanical devices of yesteryear to the future 'computers on wheels' has led to more value-creating activities and opportunities for the company in the automotive sector," says Agwan.
"Growing cellular connectivity in cars is set to offer a significant boost to Qualcomm's auto business. Furthermore, the expansion of the automotive business and the resultant increase in the supply of semiconductors will support the industry, which has been witnessing production losses due to chips shortages.
"Qualcomm – better known for its cockpit, infotainment and telematics products in the auto business – aims to deepen its presence in future mobility solutions that revolve around connected, electric and autonomous technology. With its new broad automotive strategy 'Automotive Redefined' announced earlier this year, the company aims to intensify product development in the cockpit, connected, autonomous, infotainment, electric charging infrastructure and other subsystems in automotive.
"Qualcomm wants to be what 'Android is to smartphones', i.e., an open platform provider, with qualified software partners, that can serve a large range of applications rather than developing its own software for each system. The company presently supplies infotainment and digital cockpits products to 19 automakers globally and has a hefty order pipeline – nearly US$10bn. Further strategic focus on the automotive sector is set to offer competitive benefits and level up Qualcomm i the automotive value chain.
"During COVID-19, most semiconductor manufacturers diverted supply to other industries, given the dwindling manufacturing and supply in the auto industry. However, with the existing supply-demand mismatch, it is required that semiconductor companies – largely catering to other industries – develop their capabilities in automotive and tap the existing opportunities in the market."