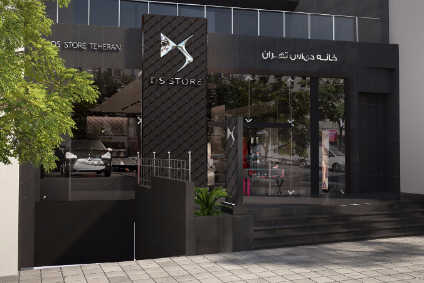 As reported by just-auto last week, PSA's DS premium brand has now officially opened a DS Store in Iran's capital, Tehran.
Yves Bonnefont, DS brand CEO and Daryoush Biria, President of Arian Group were joined by VIPs and the media to open the store in Tehran and announce the local launch of two models: DS 5 and DS 6.
A high-profile ceremony marked DS Automobiles official launch in Iran, with 200 VIPs and potential DS customers attending the milestone event.
The launch of the brand in Iran follows the October announcement of a deal between DS and Arian Group to operate and oversee the automotive brand's first venture into the Middle East.
"DS brand is undergoing a major step in its international development. Iran is a key country for us and contributes to our ambition of radiating the French luxury know-how in automobile," said Yves Bonnefont. "The experience of our partner Arian Group is a major asset for success."
Daryoush Biria, President of Arian Group, said: "The DS brand is synonymous with design, technology, refinement and French elegance. We are delighted to be the exclusive distributor of DS brand in Iran and I do not doubt that Iranian customers will be thrilled by these great cars."
Based in Tehran, the Arian Group imports, distributes and provides after-sales in Iran.
The newly opened DS store is located in the northern districts of the city on a major road, the Andarzgou Boulevard.
DS says that in a space of 275 m2, customers can now "immerse themselves in the world of DS". A modern facade, sleek design, lacquered furniture, plasma screens, photos depicting Paris, fashion, luxury and design, create an elegant and luxurious atmosphere, DS says. The DS models on display are turned towards the entrance to catch the eye of visitors upon arrival.
DS says the range will be expanded during 2016 with the arrival of DS 5LS, the sedan and other models.
Besides the commencement of DS sales, PSA is also reported to be close to announcing a manufacturing joint venture for Iran.
Iran at a glance:
Iran has a population of approximately 80m people, of which 70% live in urban areas and 15 million in the metropolitan area of the capital, Tehran.
Iran is the second population of the Middle East North African region.
Two thirds of the Iranian population is aged under 30.
Iran is rich in fossil resources, with 11% of the world's oil reserves and 15% of its gas reserves.
See also:
CEO outlines strategy: PSA DS brand targets Iran opportunity
PSA gears for Iranian opportunity and local manufacturing Rumours swirl of PSA Iran JV as Rouhani visits Paris