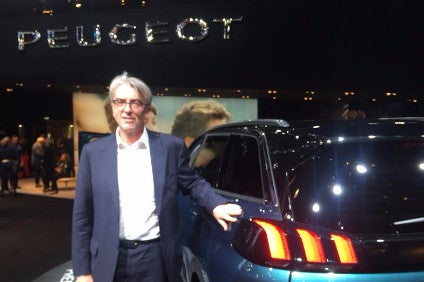 PSA Groupe says it is constantly evaluating its supply chain processes through competitor – and industrial – benchmarking as it looks to squeeze value from its component manufacturing – likening the process to an orchestra within the company.
Driving down supply chain cost is entering a crucial phase as the French automaker launches its highly ambitious 'Push to Pass' programme, which will see 26 passenger car and eight LVCs rolled out, including a 1t pick-up truck.
"We are really looking always what the competitors are doing, what industrials [other business sectors] are doing," PSA Groupe director, supply chain and manufacturing, Yann Vincent told just-auto at last week's Paris Motor Show.
"We are trying to get the best from these observations – there are no real technological differences. I have always considered we had maybe more room for improvement compared to some competitors. Automatic Guided Vehicles [AGV] for instance – everybody is implementing the AGV – everybody is trying to get suppliers closer to the factory.
"The supply chain within a car manufacturer is actually the backbone of the company. To a large extent, it is the orchestra and it is the only function which is end to end within the company.
"The way we try to satisfy customers is consistent with a production which is efficient, smooth and less expensive. One of the challenges for us [is] to push down cost for added value – pushing this cost has a lot to do with optimising our flows [for example] reducing the quantity of kilometres for trucks which are delivering parts."
Part of that optimisation includes trying to move components automatically from their delivery to the factory to the assembly line itself, which can involve unloading lorries as near as possible to where parts are needed.
PSA's massive programme of new launches will present particular challenges for its supply chain, with the component director highlighting the constant juggling act of evaluating potential demand with production capability.
"One of the issues we had and let's say, still have, within the car factory is the fact when you set up a factory, you start defining your capacity, then you build a factory," added Vincent.
"Then you start producing. It is very often you discover a gap between actual capacity you have defined and actual needs. The way to change this capacity – either increase or reduce it – is so far very difficult.
"One of the purpose [s] of the plant we are starting in Morocco for example, is to be capable to change the capacity of the factory very quickly."
The new products will be across PSA Groupe's brands of Peugeot, Citroen and DS and will also feature seven plug-in hybrids, four electric vehicles, as well as a connected and autonomous programme.