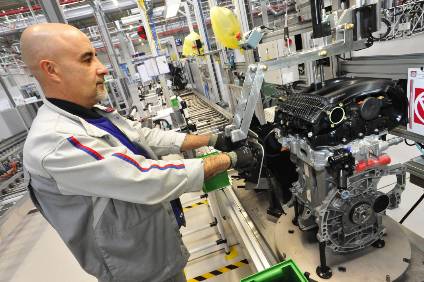 Groupe PSA is about to start the assembly of electric powertrain motors at its Tremery, France, engine plant.
Tremery is gearing up to add electric motors as PSA aims to add electric vehicles and plug-in hybrids (PHEVs) to its model ranges. In the case of group model manufacturing plants and models offering electrified variants, PSA is aiming to be able to adjust the powertrain fitment mix on the assembly line according to market needs. It also wants to bring more of the electric motor component engineering and manufacturing in-house.
Last year the Tremery plant produced 1.8m engines, of which some 1.2m were diesel units and the remainder gasoline. However, the plant has the capacity to make some 2.5m engines a year, much of the under-utilisation due to the decline of diesel car sales in the European market.
Yann Vincent, PSA's Industrial Director, told just-auto that a priority in PSA's manufacturing strategy is to be able to adjust powertrain fitment to models according to market demand. "We have forecasts of course, but we don't know what the share of electric vehicles or plug-in hybrids will be – there are a range of possible outcomes. We want to be as flexible as possible according to any shifts to market demands."
PSA is also planning to bring the engineering and manufacturing of electric motor components in-house. "In the near future we want to be able to produce the components of the electric motor through our joint venture with Nidec," Vincent said.
Nidec Leroy-Somer and Groupe PSA have agreed to work together in a joint venture on developing an electric traction motor range for electrified vehicles. The aim of the partnership is to design, develop, manufacture and sell a range of efficient electric traction machines. The joint venture will then engage R&D, manufacturing and sales for high-performance electric traction motor mainly to Groupe PSA, and to other OEMs, by combining PSA's automotive OEM strengths and Nidec Leroy-Somer's expertise of motor and related electrical equipment.
PSA says it will prepare the Tremery plant for an acceleration in electric motor production from 2021 onwards, thanks to the Nidec joint venture. Nidec will support the electrification push, as it is planned that 100% of the group's vehicle range will include an electrified offering by 2025.
Among the first BEVs to be fitted with electric motors from Temery will be the DS 3 Crossback E-Tense and Peugeot e-2008.
See also: DS 3 Crossback electric variant to have 200-mile range