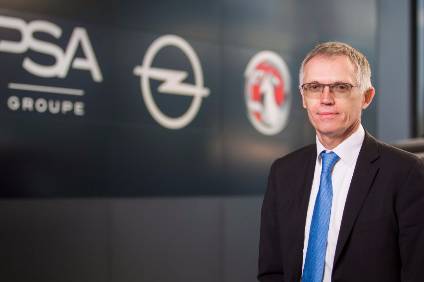 Groupe PSA has posted a new profitability record in 2019 despite what CEO Carlos Tavares described as a 'highly challenging environment' for the company.
The company posted an 8.5% adjusted operating margin for 2019 at EUR6.3bn billion on revenues up 1% to EUR74.7bn.
Group adjusted operating income amounted to EUR6,324m, up 11.2% with Automotive adjusted operating income up 12.8% to EUR5,037m. PSA said the 8.5% profitability level was reached thanks to a positive product mix and further cost reductions despite exchange rate headwinds and raw material costs increases.
Consolidated net income reached EUR3,584m, an increase of EUR289m compared to 2018.
Carlos Tavares said: "Our skilled and committed teams made the difference once again and we have achieved record results in 2019, driven by our agile, customer focused and socially responsible approach. We are ready for the energy transition and all teams are focused to offer a clean, safe and affordable mobility for customers. Based on our business model and fighting spirit which has proved to be efficient, we are eager to enter a new era with the projected merger with FCA."
In a results presentation earlier today, Tavares noted that the company is on track to meet its CO2 objectives in Europe and that it achieved an 11g average fleet CO2 reduction in 2019.
"We are absolutely sure we will meet the European CO2 objective in 2020, because we have the technology, we have the process and we have the rigour to manage this topic."
He described a process to manage the CO2 strategy that combines production planning and mastering the order book in an efficient way. "In January we did what we needed to do in terms of CO2 emissions," he said. "And we are absolutely sure we will meet the European CO2 objective in 2020, because we have the technology, we have the process and we have the rigour to manage this topic."
Tavares said the group now has ten electrified models on sale (four BEVs and six plug-in hybrids) which he said illustrates the speed of the group's ramp-up plans to 2025, when it is planned that all model ranges on sale will have an electrified variant.
He also praised the management of Opel/Vauxhall for turning around its operations to profit. "They were able to deliver on all the metrics of the PACE turnaround plans and I would like to express to them a very specific thanks and warm congratulations," he said. He acknowledged that it has been a very hard period for the unit, with tough decisions taken to ensure the sustainability of operations. "But hats off," he said. "They have done it. They have turned around their company. After twenty years of red ink they did in two years."
Opel/Vauxhall lost share last year, but Tavares said that reflected the 'bold' decision to discontinue six models in 2019 and put Opel/Vauxhall brands on PSA engineering architectures (or 'technological bricks') as soon as possible to be efficient in terms of CO2 emissions. That meant Opel cars' average CO2 emissions were reduced by 20 grams in 2019, he said, an "enormous" figure.
With respect to China, Tavares said the coronavirus crisis was a "huge derailer" and it was very difficult to predict outcomes. The emphasis for PSA was on protecting its JV operations (which will be closed until at least March 12), following the lead from the Chinese authorities and he also stressed that all employees are safe and in good health.