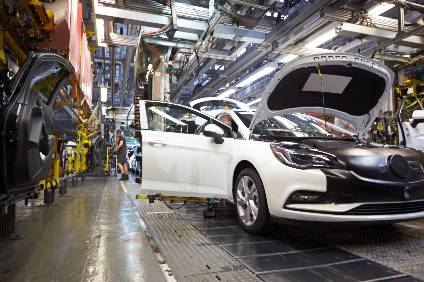 Groupe PSA has confirmed it is planning to make the next generation Astra at Vauxhall's Ellesmere Port, UK, plant, though the announcement said it would be subject to the terms of the UK's exit from the European Union planned for later this year.
In a statement, Vauxhall – the British brand for the Opel/Vauxhall European operations that PSA purchased from General Motors – said: "We have been working hard to turn around the fortunes of the brand and to address the performance of the commercial and manufacturing divisions. Currently, the Vauxhall and Opel Astra are built in Ellesmere Port and in Gliwice – and our bestseller is still in the middle of its life cycle."
It also said the next generation Astra will also be manufactured in two plants in Europe: "The group has confirmed that the Russelsheim plant will manufacture Astra and that it is planned that the second plant will be Ellesmere Port in the United Kingdom."
However, the decision on the allocation to the Ellesmere Port plant will be "conditional on the final terms of the UK's exit from the European Union and the acceptance of the New Vehicle Agreement, which has been negotiated with the Unite Trade Union."
It added that the news "demonstrates the continuous effort and commitment of Groupe PSA to Vauxhall Motors".
In October 2017, Vauxhall told the media that it would be asking for 400 voluntary redundancies from workers at the current model's lead plant, Ellesmere Port in north-west England. That took the site down to one shift from two. Astra is the only vehicle made there.
With the architecture of the next Astra becoming PSA's EMP2, major spending would need to take place to refit one or both of the former GM plants which make the current Astra. Given the shrinking C segment, the weakness of the Vauxhall brand, the uncertainty of what the UK's withdrawal from the EU will mean and the relatively low cost of workers in Poland compared to England, many believed that Ellesmere Port could be shut for good in the coming years. Gliwice, it was said, would be able to replace the lost volume.
However, in May 2019, Groupe PSA stated it would be building large vans at the Gliwice plant. Responding to a question on what this would mean for the future Astra, a spokesman for the company told just-auto.com, "Ellesmere Port and Gliwice will continue to produce the Astra model. No decision about the allocation of the future Astra has been taken. We continue to discuss and work with all partners to improve the competitiveness of our plants".