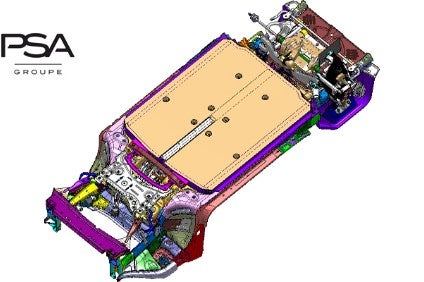 Between this year and 2025, PSA Group will move gradually from two multi-energy platforms to two 100% electrified platforms to support e-mobility development.
Its new eVMP platform will serve as the basis for a wide range of electric vehicles for the C- and D- segments.
It will offer high-performance with an autonomy of up to 406 miles/650km (WLTP cycle) and a benchmark storage capacity with 50 kW.h per metre available within the wheelbase.
From 2023, new vehicles in the C- and D-segments, from sedans to SUV will be launched in various markets worldwide.
The eVMP has 60kWh to 100kWh of embedded energy and an optimised architecture that exploits the entire sub floor for the battery.
By restoring 50kWh per metre within the wheelbase, it is a claimed benchmark for the electric vehicle market and able to offer an all electric range from 250 miles/400km to 406 miles/650km (WLTP) depending on the body.
Hybrid derivatives may be offered in certain markets but using the same platform.
Efficiency is also achieved by optimisation of R&D and production costs. This is achieved through the use of sub-assemblies and existing high-performance battery modules.
The industrial process has been studied to obtain maximum synergies with existing means in the assembly plants, therefore limiting investments.
This platform complements parts developed and manufactured within the group or by its e-motors or ACC joint venture.
"With this eVMP platform, PSA Group once again demonstrates its ability to innovate by developing for its customers affordable technology thanks to the frugality that has enabled a significant reduction in R&D and industrial investments," said R&D chief Nicolas Morel.
"This global platform will make it possible to offer a range of vehicles that are perfectly respectful of the environment, meeting the changing expectations of our customers and guaranteeing driving pleasure and safety on board."